Crown Estate Scotland opened the ScotWind Clearing round on 26 April, inviting bidders who met the required standards but did not secure their chosen location during the initial round to confirm their intention to apply for a revision of their applications for an available alternative location. 
In March, the Scottish seabed manager said all of the NE1 Plan Area of the Scottish Government's Sectoral Marine Plan would be made available for Clearing, with any further areas to be confirmed this month.
Crown Estate Scotland now confirmed only the NE1 Plan Area is offered to developers as part of this process.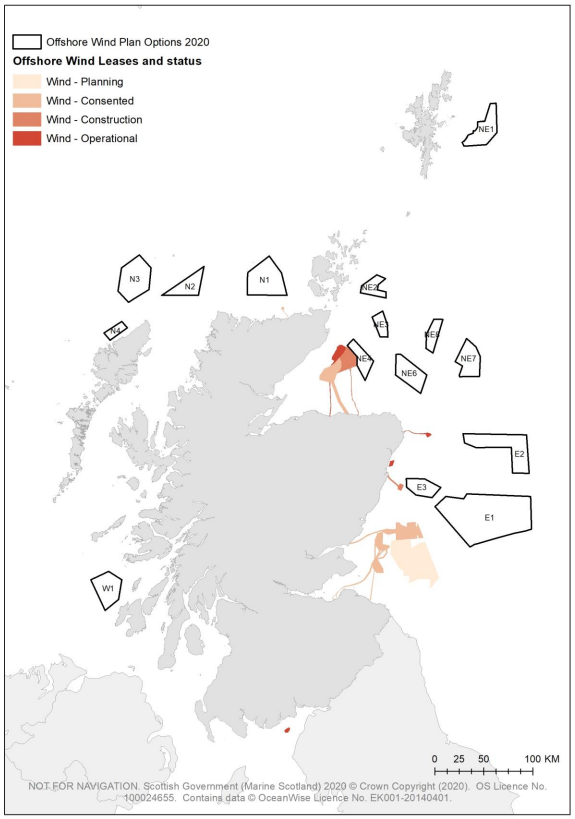 The deadline for eligible applicants to confirm if they intend to apply for the Clearing process is 10 May. Once the confirmations have been received, the developers will be invited to make their submissions and the resulting option agreements will be signed later this year.
The Clearing process follows the completion of the ScotWind seabed leasing and the subsequent signing of option agreements with the developers whose projects were selected in the initial round.
While the ScotWind round broke record in January with 17 projects totalling 25 GW in installed capacity being chosen, there are plenty of applications left that did not pass the auction.
Namely, in July 2021, after closing the ScotWind application window, Crown Estate Scotland announced that it had received 74 applications from offshore wind developers looking to secure rights to build projects across the 15 areas of seabed made available for development.
Most of the 17 projects awarded option agreements through ScotWind leasing are floating wind farms which account for 15,071 MW of the total 24,826 MW awarded.
Of the 15 areas offered through the seabed leasing round, NE1 – now offered in the Clearing process – had no successful bidders.
The NE1 area is located in the waters 18 kilometres east of Shetland and covers 751 square kilometres which are estimated to be able to house 2 GW of installed offshore wind capacity, equating to 53 per cent of the total area.
Follow offshoreWIND.biz on:
Photo: Crown Estate Scotland, Sectoral Marine Plan for Offshore Wind Energy (2020); cropped