The California Energy Commission (CEC) approved a USD 10.5 million grant for renovations at the Port of Humboldt Bay to enable handling large heavy cargo vessels, floating offshore wind platforms, and support the activities that will be taking place in an area designated for offshore wind development on the state's north coast.
The upgrades will result in the port getting a dedicated terminal for offshore wind, the Humboldt Bay Offshore Wind Heavy Lift Marine Terminal, which will initially support the development of up to 1.6 GW of offshore wind in the Humboldt call area.
Activities funded by the grant include completing preliminary engineering and design work, conducting site surveys and special studies, preparing necessary environmental impact assessments, implementing early construction, and initiating environmental mitigation measures. The funds may also be used to attract matching funds from Federal grants and to contribute towards project construction.
According to CEC, the port renovation project is expected to revitalise the waterfront industry in Humboldt County and provide living wage jobs to nearby communities. An economic assessment found that the terminal could generate as many as 830 local jobs and more than USD 130 million in industry output over a five-year period, CEC said.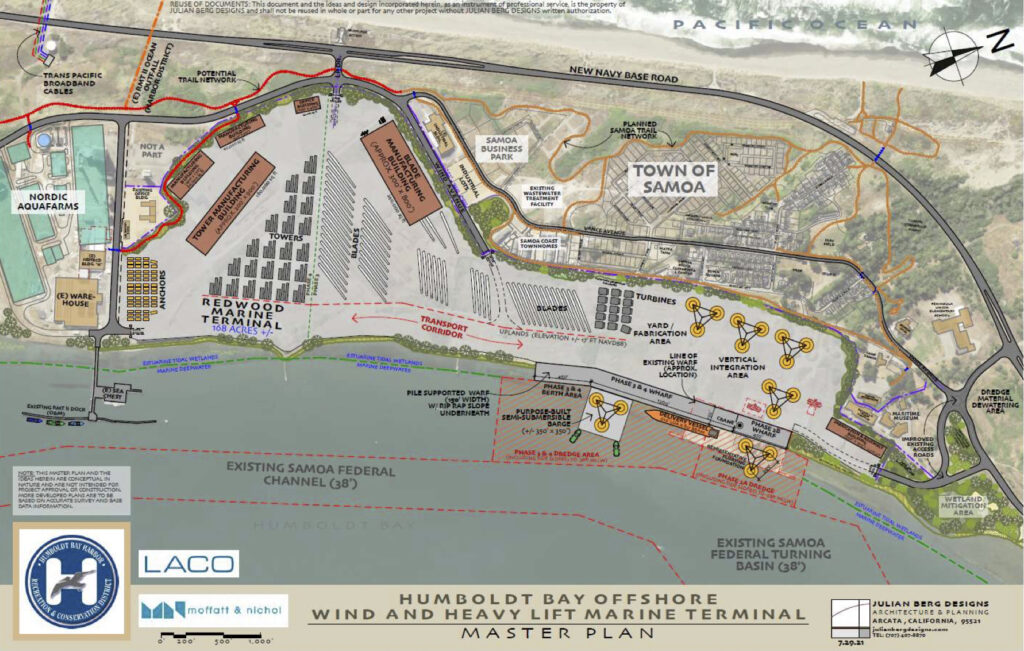 In May 2021, the US government decided to advance areas northwest of Morro Bay and offshore Humboldt County in California for offshore wind development, with the Department of the Interior formally designating the Humboldt area as a Wind Energy Area (WEA) shortly after that.
In January of this year, BOEM released the draft Environmental Assessment (EA) for the Humboldt WEA, which could bring up to 1.6 GW of clean energy to the grid, enough to power approximately 560,000 homes.
To accelerate offshore wind deployment in the state, in September 2021, California's Governor Gavin Newsom signed an offshore wind bill (AB 525) into law, which directs the California Energy Commission to evaluate and quantify the maximum feasible capacity of offshore wind and to establish goals for 2030 and 2045 by 1 June 2022, as well as to create a strategic plan and submit it to the Legislature by June 2023.
CEC recently kicked off the process of developing the strategic plan, as part of which the Commission in coordination with relevant state and local agencies is required to develop a plan to improve waterfront facilities that could support a range of floating offshore wind energy development activities, including construction and staging of foundations, manufacturing of components, final assembly, and long-term operations and maintenance facilities.
The funding CEC now allocated to the Port of Humboldt Bay was approved as part of the 2021–2022 state budget, with Governor Newsom's 2022–23 budget proposal further building on this and proposes USD 45 million for additional investments to prepare waterfront facilities in California to support floating offshore wind energy development in federal waters off the California coast.
The waters off the coast of Humboldt County have already garnered interest from developers who are looking to build floating wind farms.
Most recent plans come from a consortium between Principle Power, Aker Offshore Wind, H. T. Harvey & Associates, Herrera Environmental Consultants, and Ocean Winds North America who, together with the Redwood Coast Energy Authority (RCEA), are looking to build the 150 MW Redwood Coast floating wind farm more than 30 kilometres off the coast of Humboldt Bay.
Follow offshoreWIND.biz on:
Photo: Humboldt Bay Harbor, Recreation and Conservation District