1.8 GW Swedish Offshore Wind Farm Moves Forward
Swedish wind farm developer OX2 has submitted a permit application to construct the 1.8 GW Triton offshore wind farm within the Swedish economic zone and off the coast of Skåne.
The wind farm is located some 30 kilometres south of Ystad and will comprise up to 129 wind turbines with a maximum height of 370 metres.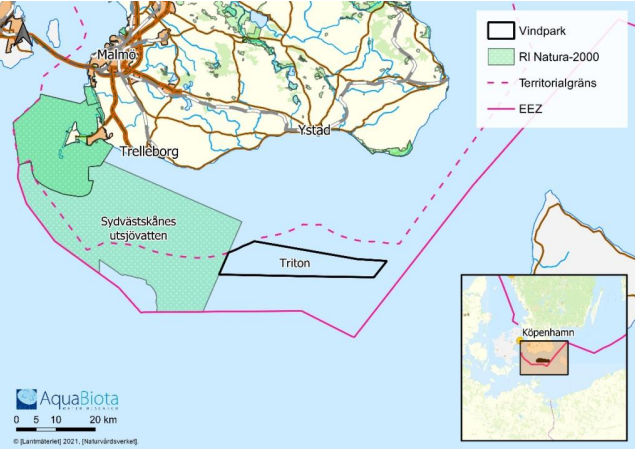 If built to full capacity, the Triton offshore wind farm would produce 7.5 TWh of electricity per year, enough to meet the needs of around 1.5 million households, OX2 said.
Back in December, OX2 submitted an application for a Natura 2000 permit for the Triton wind farm.
"I am very happy that we are taking the next step in the development of Triton. The wind farm will be constructed on bottom fixed construction which is a well proven technology. This will keep time of construction short. Once completed the wind farm will contribute with additional electricity in the south of Sweden and contribute to Sweden reaching its ambitious climate targets," said Hillevi Priscar, Country Manager, OX2.
OX2 has also recently submitted a permit application and a Natura 2000 application for the Galatea-Galene offshore wind farm.
The project would comprise 101 turbines and is divided into two areas: Galatea, located about 25 kilometres from Falkenberg, and Galene, located about 25 kilometres offshore Varberg.
Earlier this month, Sweden's government launched a search for new sea areas to support the country's newly established plan of generating up to 120 terawatt-hours of offshore wind electricity annually.
The Swedish Energy Agency has already identified areas suitable for producing 20-30 TWh of electricity annually in the Gulf of Bothnia, the Baltic Sea, and the North Sea, the government said.
Follow offshoreWIND.biz on: