Damen Fast Crew Supplier 7011 Starts Final Commissioning – Gallery
Dutch shipbuilder Damen has started the final commissioning of its "groundbreaking" Fast Crew Supplier (FCS) 7011 vessel class, the Aqua Helix.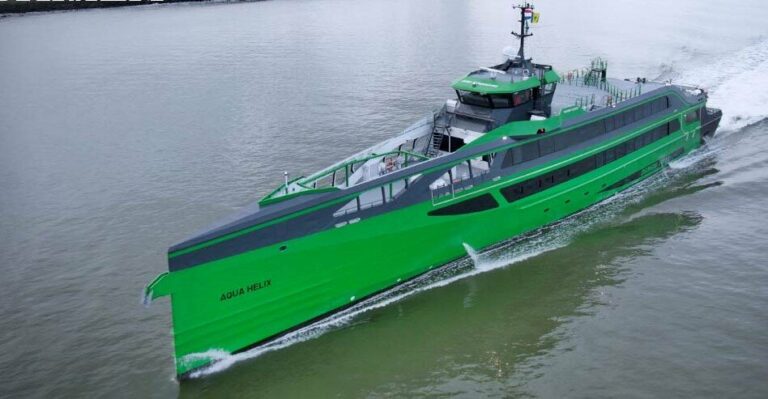 Damen FCS 7011 vessel class, the Aqua Helix, entered into the final phase of its commissioning, with Ampelmann gangway recently installed and integrated with the ship's systems.
Following the installation of the gangway, the Aqua Helix, a 74-metre, 40-knot, 122-passenger vessel, is now in the final stages of its sea trials, conducting a full shakedown of all its systems, the Dutch shipbuilder commented.
The first transfers using the new gangway will take place in March.
With those tests successfully completed, the vessel will then be available for customer demonstrations as a fully-integrated offshore crew supply solution.
Operating out of Den Helder, the initial focus of the Damen FCS 7011 will be on offshore wind and oil and gas operators in the North Sea.
The S-type motion-compensated gangway, custom designed for the FCS 7011, is a critical element in this next generation fast crew supplier vessel, the company stated. Engineered for minimum weight and fully electrical operation, the gangway plays a "vital role" in offshore crew transfers along with the VEEM gyrostabilizer.
Follow offshoreWIND.biz on: