EDF Renewables-Led Consortium Starts Building Calvados OWF O&M Base
Construction works on the operation and maintenance (O&M) base for the French Calvados offshore wind farm have commenced at the port of Caen-Ouistreham.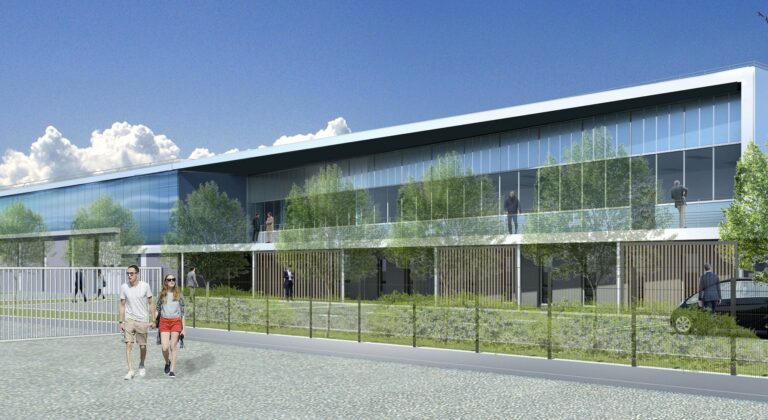 The construction of the building's foundations and framework are expected to be completed in Spring 2022 with the rest of the construction work following in the summer and works on the interior set to be finished until the end of 2022.
The O&M teams taking care of the Calvados offshore wind farm will move into the new building in early 2023, until when they will be located in temporary premises in the port.
The O&M base will consist of a control and telecommunications room, changing rooms and offices, and will house a warehouse area to store the equipment necessary for the maintenance of the wind farm.
The base, which will accommodate around one hundred people from 2023, is a result of a partnership between the teams of the Calvados offshore wind farm and the Ports of Normandy, and is part of a major investment in the port, as Ports of Normandy launched a EUR 28 million investment programme for the outer port of Ouistreham in 2019.
The 448 MW Calvados offshore wind farm is owned by a consortium consisting of EDF Renewables, EIH S.à.r.l, a subsidiary of Enbridge Inc., CPP Investments and wpd, who reached the financial close on the project at the beginning of this year.
The wind farm, also known as Courseulles-sur-Mer, will comprise 64 Siemens Gamesa 7 MW wind turbines, installed ten kilometres off the Bessin coast in northwestern France.
Upon its commissioning, scheduled in 2024, the wind farm will generate the equivalent of the annual electricity consumption of 630,000 people, or over 90 per cent of the Calvados French department's population.