Construction Works Start on Quayside for GE's Blade Facility in UK
Construction works on the quayside at the Teesworks site, where GE Renewable Energy will build its manufacturing plant for offshore wind turbine blades, have started.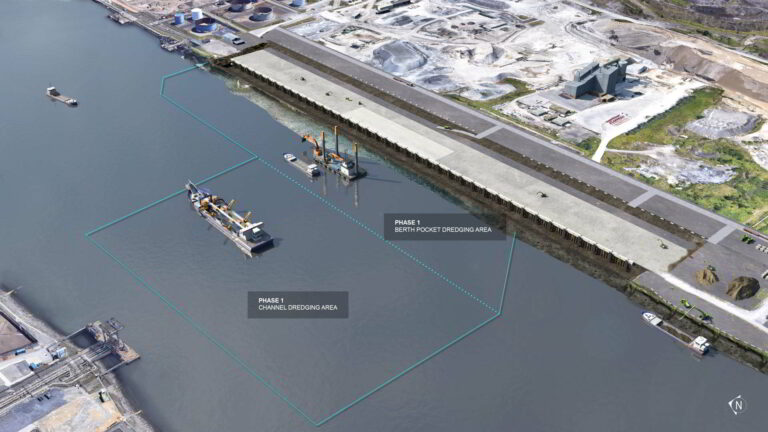 UK contractor Graham has been appointed to work on the development of the new South Bank Quay, a 1.2-kilometre heavy-lift quay along the banks of the River Tees which will support GE Renewable Energy's wind turbine blade facility and accommodate the load-out and shipping of 107 metres long blades for the Dogger Bank offshore wind farm.
The quay, which forms part of a wider manufacturing and industrial space set to be built on 450 acres of land next to the wharf, will also provide direct access to the biggest wind farms across the world and help position the site as the UK's premier offshore wind hub, according to Teesworks.
"The quay will be a huge asset, firmly putting Teesworks at the forefront of the offshore wind sector and be a huge draw for other businesses looking to invest on the site", said Tees Valley Mayor Ben Houchen, who welcomed Graham to the Teesworks site on 30 September to kick-start the quay development.
The work includes ripping out the dilapidated concrete and wooden jetties of the former Heavy Fuel Oil Farm and Tarmac. Two million tonnes of earth will be excavated to create the deep-water berthing facility. A huge pile-driving crane has been delivered to the site ahead of the installation of tubular piles that will be pushed into the riverbank to create the hardstanding and logistical space.
According to Mayor Ben Houchen, construction works on GE's blade manufacturing facility itself are set to start within weeks.
The wind turbine manufacturer received the official planning approval from local authorities for its manufacturing plant in September, when the company also said the construction was planned to begin after all contractual documents are finalised.
LM Wind Power will operate the plant, dedicated to the production of its 107-metre blades for GE's Haliade-X offshore wind turbines.
The 78,000 square-metre facility, in the South Bank zone of the Teesworks site, is planned to be opened in 2023 and to deliver wind turbine blades for the Haliade-X units that will spin at the Dogger Bank offshore wind farm, as well as other new large offshore wind projects.
The job opportunities on offer in the construction and operational phases of GE's facility will be available at TeesValley.jobs over the coming months as recruitment ramps up, according to Teesworks.
Recruitment for the plant is scheduled to begin in mid-2022, with an estimated 750 direct positions to be filled and an additional 1,500 indirect jobs to be created to support the entire supply chain around the factory, according to earlier information from GE Renewable Energy.