ODE, DongYang Engineering to Develop Substation Design for Korean Offshore Wind Farms
UK-based Offshore Design Engineering Limited (ODE), part of the DORIS Group, and Korean engineering company DongYang Engineering (DYE) plan to jointly develop an offshore substation design specifically for Korean offshore wind farms.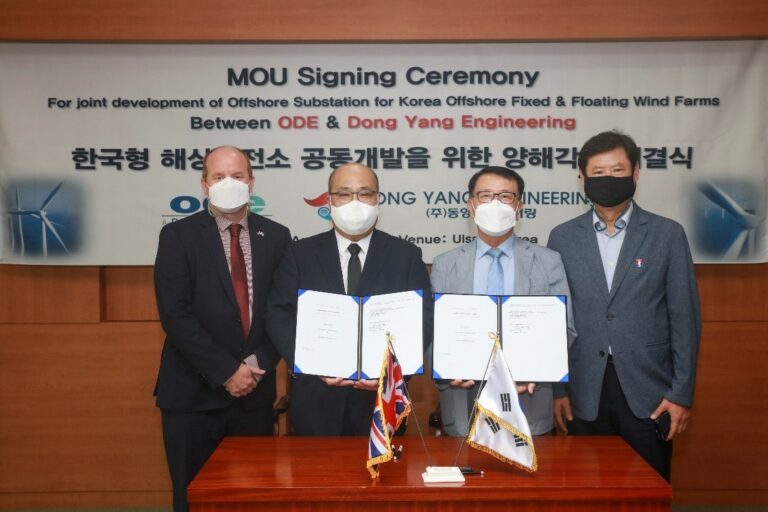 The plan is part of the business development activities and the execution of engineering services the two companies will jointly undertake under a Memorandum of Understanding (MoU) signed on 27 August.
Generally, the MoU will see ODE and DYE pursuing offshore wind and other prospects both in South Korea and globally.
The companies said the MoU complemented the strengths of both companies to create a strong local offering for the emerging Korean offshore wind market, with DYE offering local, in-depth insight into the Korean energy market and ODE bringing a 20-year track record in offshore wind to the partnership, having worked on major international projects for global clients in Korea and the APAC region.
"ODE's strategy as an international business is always to work with companies who have local knowledge of engineering and the supply chain and to then add our international understanding and best practice of offshore wind design and execution. We have found such an opportunity with DYE and we look forward to working with them", said Andrew Baker, ODE's Managing Director.
In July, ODE, which opened an office in Seoul at the beginning of this year, secured an Owner's Engineer and Package Manager contract for Green Investment Group's (GIG) offshore wind farms in South Korea.
The company will manage a range of packages including foundations, cables, electrical interface, and onshore engineering, and will support GIG through the concept, FEED and detailed design engineering phases on projects totalling over 500 MW.
A month prior to that, ODE, together with Arup, won an Owner's Engineer contract with Hyundai Engineering Corporation for a 220 MW offshore wind project in the country.
For Hyundai Engineering's project, the Arup–ODE team will assess the local conditions to determine the most appropriate foundation system, turbine technology and site layout for the chosen site in order to facilitate the early project planning works.