NOV to Design and Equip Cadeler's New X-Class Offshore Wind Jack-Ups
Cadeler and COSCO Shipping Heavy Industry have contracted NOV to supply the overall vessel design and jacking systems for the two X-Class wind turbine installation vessels Cadeler recently ordered at COSCO.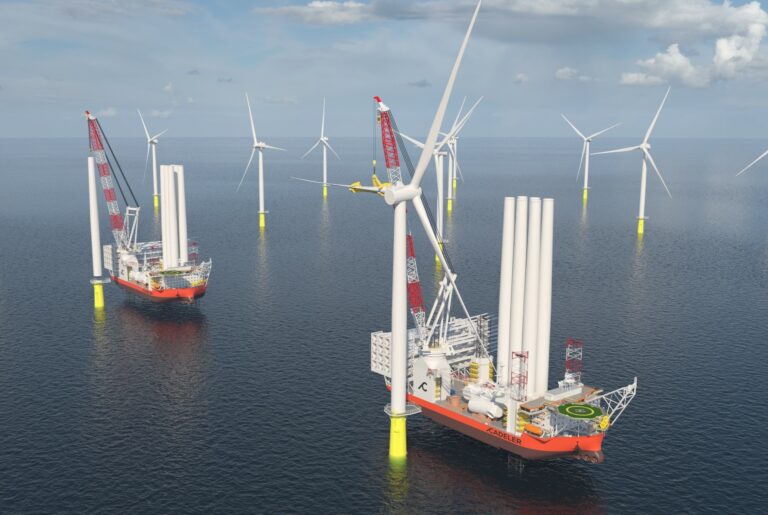 Under the contract, NOV, the parent company of the vessel designer GustoMSC, will supply two GustoMSC™ NG-20000X jack-up vessel designs, as well as the vessels' jacking systems which will incorporate NOV's regenerative power system technology that will provide fuel savings and emission reductions, according to the company.
After announcing the decision to build the new X-class vessels in April, Cadeler signed a shipbuilding contract with COSCO Shipping Heavy Industry in June, saying the two vessels will be delivered in 2024/2025 and will be the largest in the industry.
Each vessel will be able to transport and install seven complete 15 MW turbine sets per load, or five sets of 20+ MW turbines. They will have a deck space of 5,600m2, a payload of over 17,600 tonnes and main crane capacity of above 2,000 tons at 53 metres.
The first newbuild, which will be ready for service by the third quarter of 2024, has already been contracted by Siemens Gamesa for the transport and installation of 100 Siemens Gamesa 14 MW wind turbines at the Sofia offshore wind farm in the UK.
For NOV, this latest work for Cadeler follows the contracts for the supply of new heavy-lift cranes for Wind Orca and Wind Osprey vessels, as part of Cadeler's plan to upgrade the existing fleet's capabilities to handle the next-generation of turbines.