WEM Marine Orders Two More CTVs from Strategic Marine
Singapore-based shipbuilder Strategic Marine and the UK-based offshore support vessel provider WEM Marine have signed contracts for two more crew transfer vessels (CTVs), scheduled for delivery in April 2022.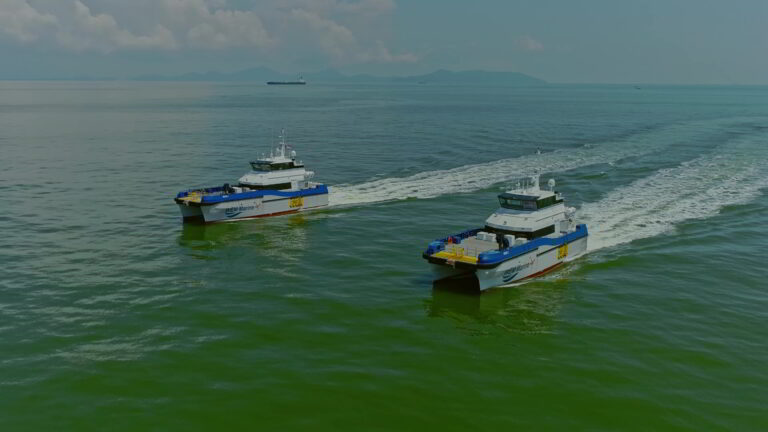 The new shipbuilding contracts follow WEM's first order with Strategic Marine in September 2020, based on which the shipyard built two 27-metre CTVs of a Strat Cat design and delivered them to the owner in June.
The two new vessels are also of a Strat Cat design and, just like its recently delivered sister crafts, will be deployed in UK and European waters to serve the offshore wind energy market.
"WEM has been involved in the UK and European offshore wind farm sector for many years and has successfully operated in most major UK and European wind farm projects. These new CTV vessels are a key element of our business growth plans as a leading supplier of reliable, safe, fast, fuel efficient, offshore support vessels that are state-of-the-art and fit-for-purpose", said WEM Marine's Managing Director, David Ford.
Earlier this year, Strategic Marine presented its next-generation CTV of a Strat Cat design, which is said to offer enhanced vessel capabilities with a reduced environmental footprint and hybrid drive options.
The two new vessels will be built to RINA class rules with the Green Star 3 notation and will also have a "Green Passport" for safe ship recycling to meet WEM's company ethos of reducing the environmental footprint of their operations, Strategic Marine said.
Furthermore, the vessels are fitted with the AFS 2 active fendering system, which allows them to push up with less risk of damage to the vessels and offshore structures while providing a stable and safe connection for crew in a larger range of sea conditions, according to the shipbuilder.
"The AFS 2 active fendering system is a game changer and give operators a higher safety factor when pushing up on the turbines which translates to less time, cost and emissions per transfer and potentially a larger operating window", said Jim Fraser, Strategic Marine's Business Development Manager for Europe.