Tekmar and DeepWater Buoyancy Sign Offshore Wind MoU
Tekmar Group and DeepWater Buoyancy have signed a Memorandum of Understanding (MoU) to work together in the offshore wind sector.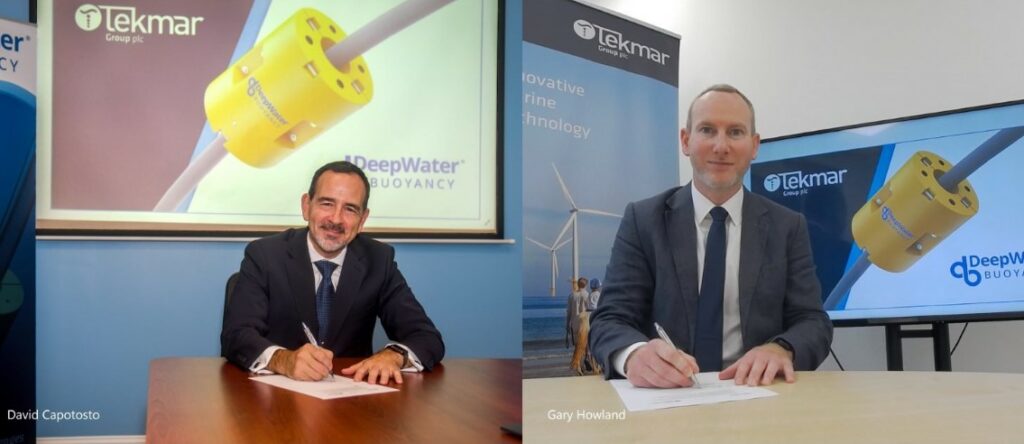 The partnership is focused on the new and emerging floating offshore wind market which has an exponential growth forecast of 10 GW installed capacity by 2030, the companies said.
It will offer a collective package of geotechnical assessment and engineering analysis, cable, and mooring system design, cable protection and stabilization solutions, cable buoyancy, and mooring line buoyancy.
Additionally, Tekmar and DeepWater said they will offer bespoke product solutions for the unique elements of floating offshore wind projects, such as cable disconnection systems.
The partnership is also said to further support Tekmar's organic growth strategy by strengthening its presence and manufacturing capability in the US fixed offshore wind market, and also to provide DeepWater with greater access to the European market.
"Aligning with DeepWater Buoyancy gives Tekmar Group access to over 40 years of innovation in subsea buoyancy products. This strengthens the unrivalled service and technology capability we already offer across a subsea project's timeline," said Gary Howland, Group sales director at Tekmar.
"The partnership supports Tekmar Group's ambition for the global floating wind market and the US fixed offshore wind market, where we now have stateside expertise and manufacturing capability."