Four Missing After Jack-Up Vessel Tilts at Offshore Wind Farm in China
The Sheng Ping 001 jack-up vessel, formerly Teras Fortress 2, tilted on 25 July while working at the site of China General Nuclear Power Corporation's (CGN) wind farm off Huizhou, with four people reported missing, China's media report.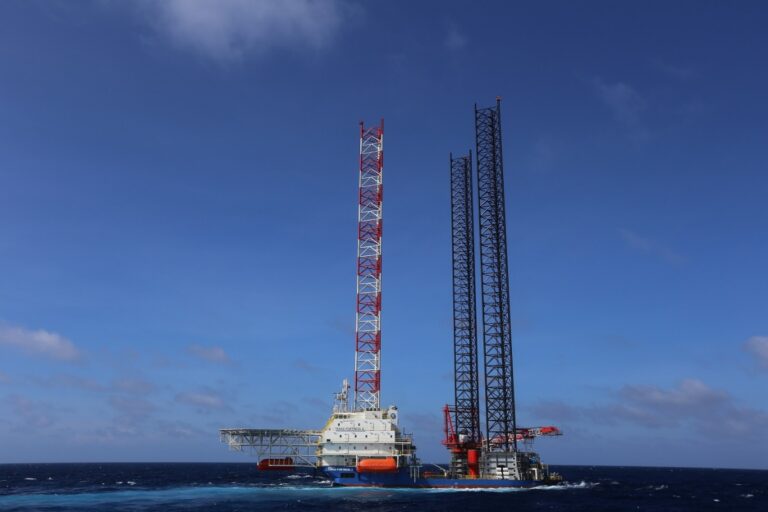 The vessel, carrying 65 people, tilted around 11 a.m. on 25 July, with several of those on board falling into the sea as the vessel's deck flooded with water and the jack-up partially sunk.
The Guangdong Provincial Maritime Search and Rescue Center was alarmed at 11:26 a.m. and the search and rescue operation began immediately. According to the update in the late afternoon on 25 July, 61 people have been accounted for and four people are missing.
Coordinated efforts using around 30 helicopters and vessels to find the missing people have been ongoing, according to media reports from China.
As for the vessel, by the evening the jack-up was stabilised.
Built in 2015, the vessel was operated by Teras Offshore as an offshore supply ship until the parent company Ezion Holdings sold Teras Fortress 2 to Virgo Shipping last year. Since then, the vessel, now sailing under the name Sheng Ping 001, has been upgraded to carry out wind farm installation work, including a new crane.
Off Huizhou City, Guangdong Province, CGN is currently building its 400 MW offshore wind farm, which will comprise 64 MySE6.25-180 wind turbines installed some 25 kilometres off the coast in water depths between 30 and 43 metres.
The offshore wind farm is scheduled to be operational in mid-2022.