SSE to Invest EUR 15 Million in Arklow Bank 2 O&M Base
SSE Renewables has presented details of its plan for an operations and maintenance (O&M) base for the 520 MW Arklow Bank 2 offshore wind project in Ireland.
The O&M base, in which SSE will invest EUR 15 million, will be built at a disused site known as The Old Shipyard at the South Dock in Arklow Harbour. The company has now opened public consultation on the development, which will run until 25 June, as it prepares to submit a planning application with Wicklow County Council later this Summer.
SSE selected Arklow Harbour as the preferred location for the Arklow Bank 2 O&M base in June last year, after assessing the Wicklow Port and Arklow Harbour as possible locations.
The developer then said the base would create 80 full-time jobs once the 520 MW offshore wind farm becomes operational. These roles include site managers, supervisors, technicians, control room operators, engineers, vessel crew, stores and administration staff. 
With the detailed plan now available, SSE states that some 60 construction roles will be created during the delivery phase of the O&M base alone, and additional indirect supply chain roles are expected.
The facility SSE plans to build at Arklow's South Dock has been designed as a four-storey Nearly Zero Energy Building (NZEB), which will accommodate warehousing for wind turbine components, office and meeting space and staff welfare facilities.
The nearshore element of the O&M base plan will see the existing disused syncrolift removed from the Arklow Harbour's dockside and replaced with berthing and pontoon facilities for crew transfer vessels (CTVs) that will serve the offshore wind farm.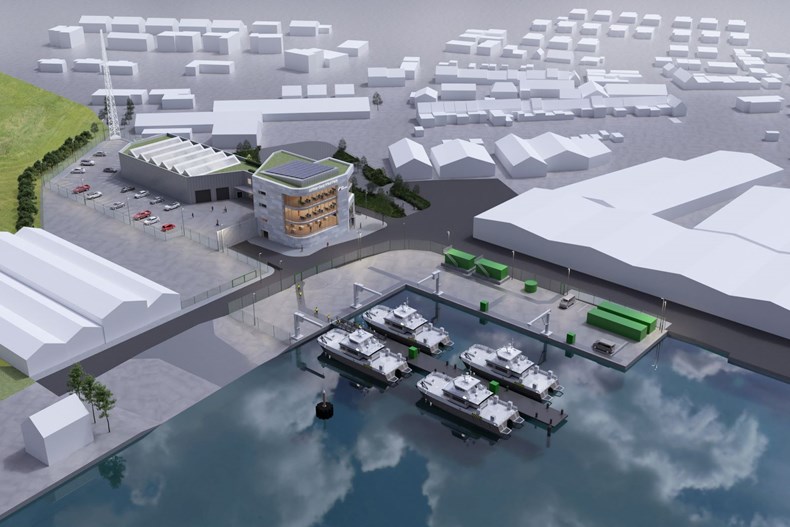 The Arklow Bank Wind Park Phase 2 is located 6 to 13 kilometres off the coast of Arklow in County Wicklow and would be Ireland's second offshore wind farm. SSE Renewables, the developer of the country's only offshore wind farm (Arklow Bank 1), said it was actively progressing its plans to deliver Ireland's first offshore wind farm of scale by 2025.
The company expects to invest between EUR 1 billion and EUR 2 billion to deliver the 520 MW project.