Ireland Grants EUR 2.88 Million for Micropiling Technology Development
Irish government has awarded EUR 2.88 million through its Disruptive Technologies Innovation Fund (DTIF) to a project developing a micropiling solution for offshore wind foundations.
The funding has been awarded for the design and construction of a robotic drilling system and an anchor template for the installation of micropiled anchor foundations, with anchors to be load tested to prove suitability.
The project, called SEMPRE, is coordinated by Mincon Group, with Subsea Micropiles, University of Limerick (UL), and University of Ireland Dublin (UCD) as partners.
Project partners state that the SEMPRE project will develop micro piles for subsea anchoring use which will lower the cost of offshore wind by up to 20 per cent, have huge environmental benefits, and improve seabed access.
[The article continues below the image.]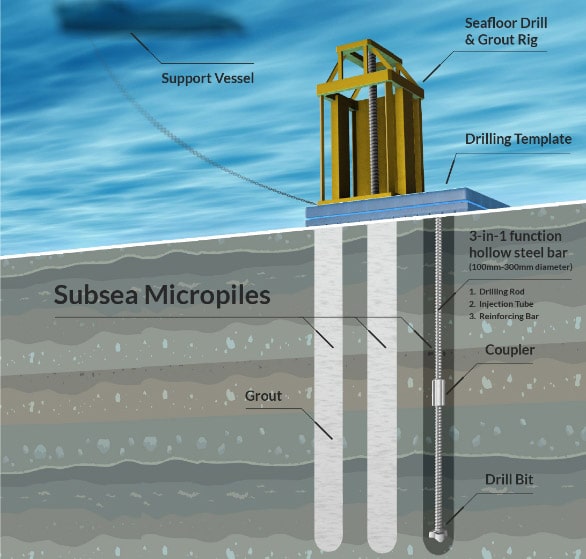 The development of robotic seabed drilling systems over the past decade represent a key enabling technology which supports the installation of micropiled anchors and foundations, according to Subsea Micropiles.
The SEMPRE solution includes a robotic seabed drill used to install and grout micropile anchor foundations. Mimicking the root piles of trees, the group response of multiple piles represents a highly efficient distributed anchor solution, capable of withstanding significant axial and horizontal loads, the company said.