With the aim of contributing to the growth of the wind industry, Faccin Group continues with its policy of creating, sharing and distributing relevant and valuable content for its customers and public in general. The Group broadcasted on April 8th 2021 an engaging webinar focused on the Wind Energy Industry and the challenges laying ahead. The event has been watched by hundreds of individuals looking at understanding how the industry will cope with the monumental growth of the Wind Industry and the hype that has been created around this renewable source of energy for the future.
During this event, hosted by Javier Lanfranchi, key players of the industry together with the members of Faccin Group's Wind Energy Division, Andrea Comparin, Diego Morbini and Rafael Soto, shared with the public their views on the future of the market, particularly on the challenges related to the construction of ever bigger, taller and heavier towers, the extreme tolerances required, the diameters of the monopiles, the thicknesses to be rolled and the solutions provided by the manufacturers of machinery and how the tower producers should prepare for it.
The conclusion was that preparation, readiness and investment were keys to stay ahead of the competition in this industry and the exponential growth that is expected not only in onshore wind power but also offshore, with the expansion of the Asian and the US markets. And rolling hundreds of steel cans of bigger diameters and thicker walls with very strict tolerances, was an important point highlighted during the webinar. In this regard, Faccin Group contributed with its expertise based on hundreds of Wind Tower Automation systems installed around the world and covering a wide range of solutions for the rolling of monopiles, especially offshore wind projects, automation systems to produce hundreds of cans for sections and onshore towers and innovative machinery for the serial fabrication of door frames and flanges.
Rolling Power for Offshore Wind Tower Foundations
Faccin is specialized in manufacturing machines for wind power and specifically for wind towers foundations as monopiles, jackets and tripods together with their transition pieces.
Offshore wind tower foundations made by heavy duty thicknesses up to 4,2m wide, 150mm thick and 12m diameters, require strong, powerful bending machines capable of achieving tight tolerances of roundness and performing the job 24/7.
Faccin has supplied top players of Offshore Foundations with its optimized HAV machines, 3-roll with Variable Geometry, ideal for rolling and calibrating cylindrical and conical shapes.
In addition, the 4-roll models 4HEL and 4HEP, are the ideal machines when high productivity is required by the wind tower manufacturers, also in their optimized heavier versions for the construction of thick cones and cans for monopiles, jackets and TPs.
Plate rolls are delivered nowadays as a unique system together with the advanced handling devices that consist of top supports, side supports, feeding tables for plate alignment and clamping system for tack welding preparation.
Powerful CNCs and special automation systems for rolling and calibration have been developed together with customers and optimized by Faccin R&D in the last 30 years.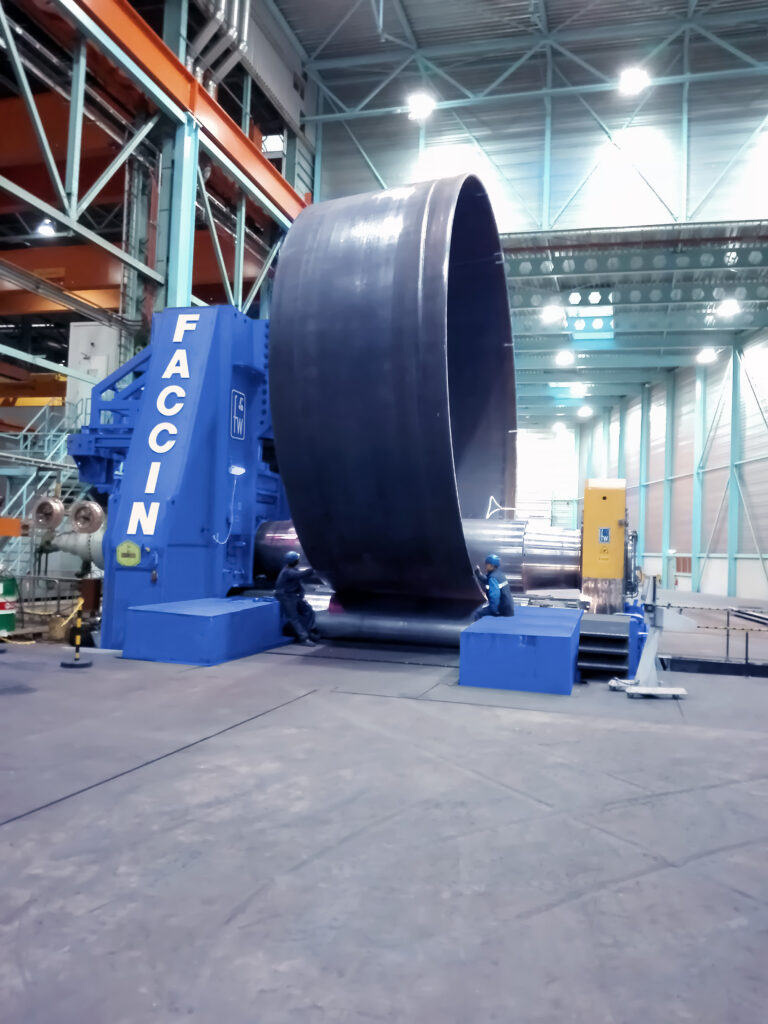 An Automation rolling system for serial production of wind Towers
With hundreds of energy efficient rolling lines delivered to all the major wind tower manufacturers worldwide, Faccin is proud to do its part in the expansion of clean and renewable energies.
A typical wind tower line consists mainly of a 4-roll plate roll available in lpinear (4HEL) or planetary (4HEP) versions equipped with a wind tower automation system that comprises:
Motorized feeding table available in horizontal or tiltable version.
Plate aligning system to automatically align plates for both cylinders and cones;
Tiltable vertical support to hold the cans during rolling and avoid the collapsing of the same;
One or two lateral supports to accompany the plates after bending and prevent reopening;
Clamping system for on board tack-welding on the side support.
All the system is integrated and efficiently controlled by the Full Siemens CNC PGS-Ultra that can perform the automatic bending of cans in 10-15 minutes.
Faccin rollers with wind tower automation system together with a new generation of teleservice and industry 4.0 integration make the Faccin wind tower line the most advanced rolling system for onshore and offshore wind towers.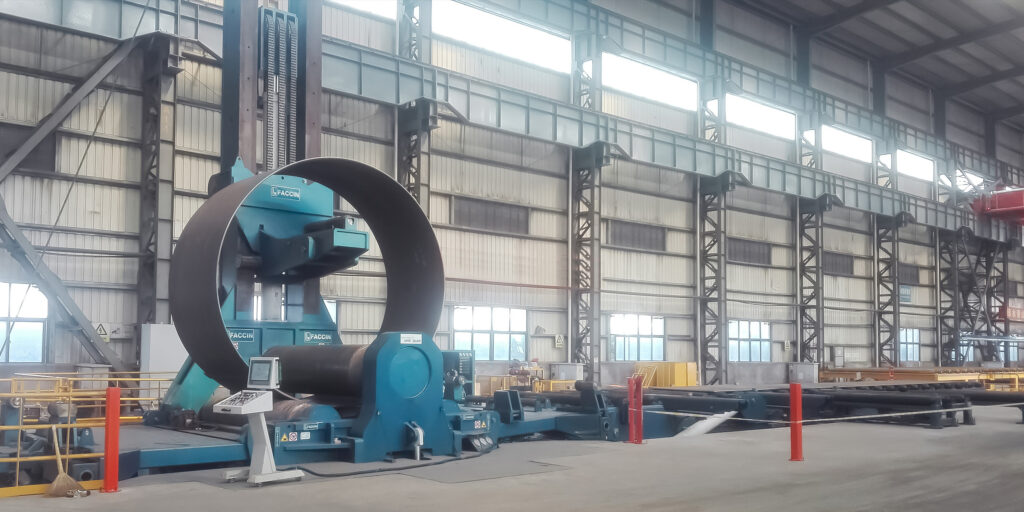 Production of wind towers door frames made easy
Wind towers door frames are oval steel rings made for reinforcing the entry hole necessary for an operator or technician to access the towers. The door frames are generally made of steel plates 400-500mm wide with thicknesses that range from 50mm up to 100mm to comply with the design norms.
The fabrication of oval shaped steel frames with rather small radii, requires a machine capable of bending these thicknesses down to radii of around 250-400mm.
FACCIN has designed a special 4-rolls linear machine for door frames, the 4HEL/DF Series, half meter long, with extra bending force and torque to increase automation and precision and capable of rolling these complex shapes with minimum cycle time and the shortest pre-bending possible.
The 4HEL/DF comes with the latest generation of Siemens CNC, the PGS-Ultra, that allows automatic calculation of the bending cycle as well as a perfect interpolation of the axis.
In addition, Faccin Group provides a series of powerful and generously sized section rolls for cold and hot rolling specifically designed for bending profiles to manufacture flanges that will be added on the ends of each wind tower section following strict tolerances. Flanges are an essential component in the wind turbine tower manufacture process.
The company
Faccin Group is a reliable and experienced partner for your next wind project with more than 30,000 machines successfully installed worldwide. The group throughout its Wind Division puts at the customer's disposal, experienced engineers that ensure a smooth interface with the different areas of the company like research and development, product design and fabrication in the creation of technologically advanced solutions for manufacturers of wind towers, wind foundations, wind tower flanges and wind tower door frames.
For more information, please do not hesitate to contact us at [email protected]
Note: The opinions, beliefs, and viewpoints expressed in this article do not necessarily reflect the opinions of Offshore WIND.