Leading offshore wind developer Ørsted and Tradepoint Atlantic have completed the initial phase of Maryland's first offshore wind staging center at the 3,300-acre global logistics center in Baltimore County.
Ørsted has now completed USD 13.2 million in port infrastructure upgrades, establishing both a lift-on/lift-off and roll-on/roll-off berth within Tradepoint Atlantic's port facility for handling offshore wind components such as wind turbine blades, foundations, nacelles, and towers.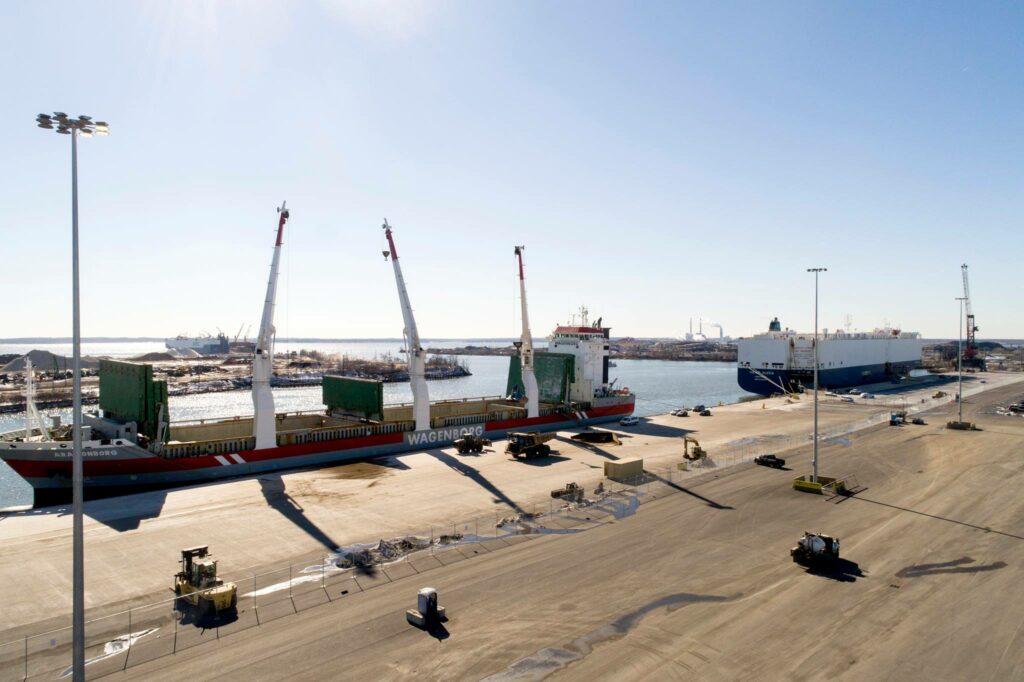 This includes strengthening the ground bearing capacity at the port to allow heavy-lift cranes and specialized transporters to move wind turbine components, some weighing as much as 2,000 tons, from ships onto the site. Ørsted provided funding to drive hundreds of heavy steel pilings over 150 feet into the ground so that these heavy components can be safely handled.
Ørsted and Tradepoint Atlantic are now beginning preparations for the second phase of the staging center, which is development of 50 additional acres of land for the laydown, storage, and assembly of offshore wind components.
This new phase represents a critical step in Ørsted's commitment to invest in a steel fabrication plant in Maryland, and also lays the groundwork for a potential investment in steel manufacturing facilities at Tradepoint, the company said. The new space could also be used for manufacturing offshore wind components.
"Tradepoint Atlantic is a world-class Maryland asset with a storied legacy of serving the needs of the United States and the world," said Maryland's Governor Larry Hogan.
"This Baltimore institution is once again positioned to serve as a critical piece in supporting our country's clean and renewable energy transformation for generations to come. Now is the time to invest in the kind of infrastructure that supports the development of new industries—like offshore wind—and the creation of thousands of new jobs. Ørsted has an established track record as the global leader in this noble effort, and we're proud to call them a partner in achieving our climate and renewable energy goals."
The staging center at Tradepoint Atlantic will be used to construct Ørsted's Skipjack offshore wind farm. The project is expected to create 1,400 jobs in Maryland, including 913 jobs measured in full-time equivalents during the development and construction, and 484 jobs during the operation.
The Skipjack Wind Farm, scheduled to come online in the second half of 2026, was awarded offshore wind renewable energy credits by the Maryland Public Service Commission in 2017 and will generate enough clean energy to power 35,000 homes in the region. Ørsted plans to make USD 200 million in capital investments in Maryland.
"The completion of the port infrastructure improvements further positions Ørsted and Tradepoint Atlantic as leaders in the offshore wind industry," said Kerry Doyle, Managing Director of Tradepoint Atlantic.
"Tradepoint Atlantic is the first facility capable of supporting large-scale offshore wind developments on the East Coast and is ideally positioned to provide comprehensive supply chain solutions capable of sustaining this exciting and growing energy sector."
Photo: Tradepoint Atlantic