New Esvagt SOV Ready for Action
Esvagt's service operation vessel (SOV) newbuilding, NHST-146, is now ready to start working for Vestas at Borssele 3 & 4 and Northwester 2 wind farms, the Danish offshore support specialist said.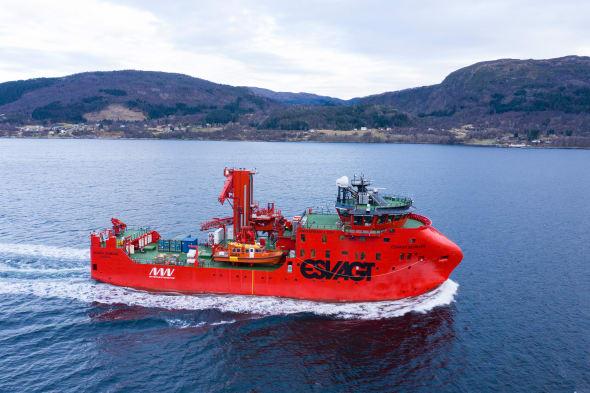 NHST-146, the first of the three SOV newbuildings for Vestas, is ready and accepted by the Class and by Esvagt, and has been ready at its base port in Oostende, Belgium, since 8 January.
All three vessels are of the Havyard 831 L SOV design. The hulls of the vessels were manufactured in Cemre Shipyard in Turkey and transported to Norway to be completed by Havyard.
The next two SOVs are to be delivered later in 2021.
The NHST-146 SOV was initially scheduled for delivery in the third quarter of 2020. 
The delivery of the vessel was delayed by a financial crisis at the Havyard Shipyard and by an outbreak of Covid-19 infections at the shipyard.
"Firstly, Havyard Shipyard was affected by a financial crisis that stopped work at the shipyard for months," Esvagt's Project Director Gerner Eskelund said.
"Work on several of the more essential parts of the vessel had to wait – for example parts of the electrical equipment, and the work could only be resumed after a renegotiation with banks and with the shipyard. Fortunately, construction of the three hulls continued in Turkey at Cemre Shipyard."
This lasted until the fall, when the shipyard in Norway was forced to shut down due to Covid-19. In total, around 20 per cent of the shipyard's workers got tested positive, and the shipyard had to wait several weeks before reopening, once the health authorities had introduced a series of intensified guidelines regarding control and work processes.
"We have been good at speeding up the process where possible to make up for some of the lost time. Among other things, we have had colleagues dedicated to overseeing all processes at the shipyard. This was a big help, but the delivery of the vessel was overall a bit delayed," said Eskelund.
The hurdles have meant that the vessel is now ready to start its charter a couple of months behind schedule and not as planned, said Kristian Ole Jakobsen, DCEO at ESVAGT.
"We are thankful for having such strong partners in Vestas, Cemre Shipyard, Havyard Design & Solutions and New Havyard Ship Technology, who have all shown understanding, flexibility and a strong will to pull together when needed," Jakobsen said.
"Likewise that Havyard in a difficult situation has done everything in its power to meet requirements and wishes. Finally, we are very satisfied that ESVAGT in this situation has the strength to, on its own, organise and make decisions that are optimal for the customer."