DNV GL: Floating Wind in Need of Comprehensive Industry Standards
Floating wind will account for 2 per cent of the world's power supply by 2050 and its cost will drop some 70 per cent by that time. Still, a more comprehensive industry standards and risk management are required for the technology to scale, according to a new report from DNV GL.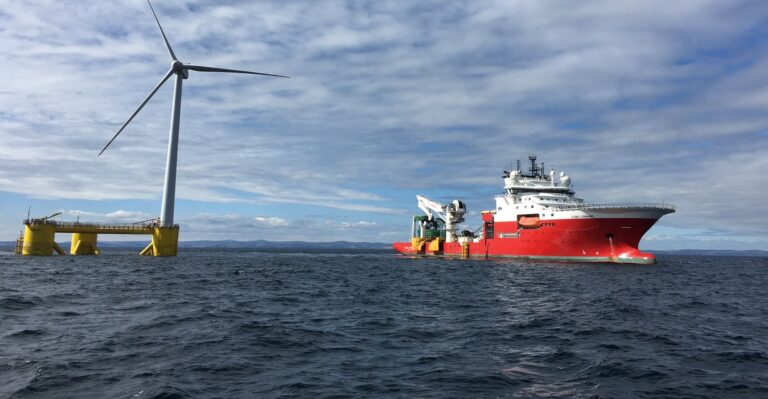 The report discusses how learnings from established offshore industries will be important for floating wind and, especially, how standardisation and risk management will be essential to build stakeholder confidence.
With the prices to fall to a global average of 40 EUR per MWh by 2050, floating wind will offer new opportunities to players in the offshore wind, oil & gas and maritime industries as they shift their portfolios to become less dependent on fossil fuels, according to DNV GL.
"We know that floating wind is technically feasible; the challenge now is to move rapidly to commercial deployments", said Remi Eriksen, Group President & CEO of DNV GL. "There is a wealth of expertise to call on. The know-how from bottom fixed offshore wind, the competences of shipyards, and of oil and gas contractors all broadly align with the technical, logistical and operational challenges of floating wind".
From the the oil & gas realm, it is perhaps most notable that oil & gas majors Equinor and Total (as of recently), are already well involved in floating wind, with Equinor being behind the world's first and now building the world's largest floating wind farm, and Total entering projects in France and South Korea.
According to DNV GL, the average cost of floating wind is not expected to fall below that of bottom-fixed wind, but the price difference will narrow as the prices for both technologies fall. Bigger/more powerful turbines, larger wind farms, significant technology developments and the creation of a highly cost-competitive supply chain will be key for bringing the prices down.
DNV GL's analysis in its recent Energy Transition Outlook 2020 predicted that the installed capacity of floating wind would grow from 100 MW today to 250 GW in 2050.
Currently, there are several floating wind farms under development or in construction, mainly in Europe, where the EU Commission presented its Offshore Renewable Energy Strategy in November, which outlines a joint 2050 goal for ocean energy and other emerging technologies, including floating wind, of 40 GW.
In November, a 9.6 MW (9.525 MW) turbine was mounted on its foundation for the Kincardine floating wind project site in Scotland, the home of the world's first floating wind farm, Hywind Scotland.
The five 9.6 MW units for Kincardine are currently the most powerful turbines to be installed on a floating platform anywhere in the world, surpassing the MHI Vestas 8.4 MW turbines operating at the Windfloat Atlantic offshore Portugal.
In October, first steel was cut for components for the world's largest floating offshore wind farm, the 88 MW Hywind Tampen, which will power oil & gas platforms in Norway.
In Spain, there are five floating wind farms in the planning phase by Greenalia, which submitted applications earlier this year for the development of the wind farms off Gran Canaria.