Geoquip Marine Fleet Deploys Off Virginia
Geoquip Marine has secured a contract to work on the development of Dominion Energy's 2.6 GW wind project off the coast Virginia, USA.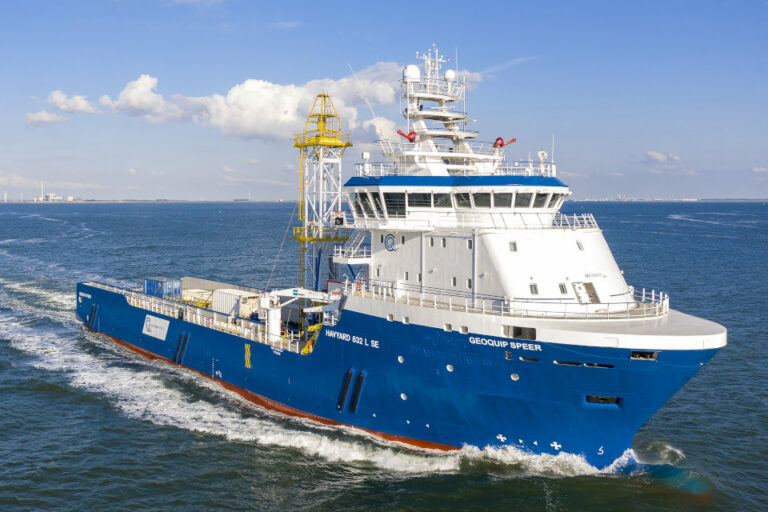 Dominion Energy's Coastal Virginia Offshore Wind (CVOW) commercial project off Virginia Beach. The wind farm is planned to be developed in three phases and be fully operational in 2026.
This contract has demanded the simultaneous deployment of three of Geoquip Marine's DP2 vessels, the Geoquip Saentis, Geoquip Speer, and Dina Polaris, a company's first. It is also the first deployment of the Geoquip Speer since it was recently acquired and refitted.
The vessels deployed on this project are docked in Newport News, the offshore geotechnical engineering and drilling company said.
The contract stipulates the drilling of deep boreholes and deep push seabed Cone Penetration Tests (CPTs) at multiple locations in the main lease area, plus shallow push seabed CPTs and shallow boreholes at multiple locations along the export cable route.
"The project specifications include borehole depths, for some borings to 120m. There are very few specialist vessels available for the work, and we are proud that we are able to mobilize three of our drill ships to fulfil the project requirements," Geoquip Marine CEO Stewart Higginson explains.
Geoquip Marine is responsible for all laboratory testing and final geotechnical reporting for the main lease area and along the export cable route.
"Geoquip Marine has experienced growth in the last three years and this contract is a reflection on this," said Higginson.
"Our market is growing, and our share of that market also continues to grow. This project epitomizes the ever-growing backlog of work that we have in supporting the rapid global development in offshore wind, and wind is now undoubtedly going to remain a key element of the energy mix for all major coastal regions around the world. Electrification is here to stay, and we are keen to support that continued development wherever in the world offshore windfarm projects are planned."
The 12 MW CVOW pilot project has recently been completed, marking the first time wind turbines have been installed in US federal waters.
The two Siemens Gamesa turbines are expected to provide the operational, weather, and environmental experience needed for the 2.6 GW development in the adjacent 112,800-hectare lease site. The commercial wind farm will feature Siemens Gamesa's 15 MW wind turbines.
NOTE: The original article has been amended.