Amsterdam IJmuiden Offshore Ports Boosts Its Membership
Atlas Professionals and Roodenberg Staalkabels have joined Amsterdam IJmuiden Offshore Ports (AYOP), the association for offshore companies in the North Sea Canal region.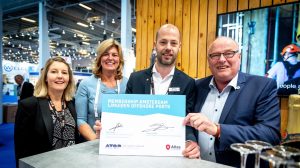 AYOP stated it now has 79 members in the North Sea Canal region focused on the offshore extraction of oil & gas and wind energy.
According to AYOP Chairman Ron Davio, services of Atlas Professionals are an excellent addition for the members of the association in view of the construction of the four Hollandse Kust Zuid offshore wind farms.
"The offshore developments off the coast of Ijmuiden, especially those in wind energy, are moving at a rapid pace, offering serious opportunities to suppliers in the region," Davio said.
"The strength of our association is that we promote the interests of the offshore sector on behalf of our members among government bodies and educational institutions, and combine this with the significant network of our members. We enable them to exchange knowledge and tackle joint and complementary projects together."
AYOP focuses on offshore wind maintenance, drilling projects for gas exploration, adjustments and maintenance of work vessels and platforms, and the disassembly of offshore constructions and vessels.
Its policy is to support its members in finding innovative business opportunities in the offshore sector and stimulate cooperation and knowledge exchange via member meetings and other activities.
"The developments in our company have brought our activities ever closer to the offshore sector," said Danny Hol, Sales Manager at Roodenberg Staalkabels. "Joining AYOP is a key step to ensuring our involvement with projects and companies in the region. We expect our membership of the association to support the further intensification of our offshore activities."
Related news
List of related news articles