Siemens Gamesa Rolls Out First 10MW Nacelle
Siemens Gamesa has unveiled the first prototype nacelle for the SG 10.0-193 DD offshore wind turbine at its facility in Brande, Denmark.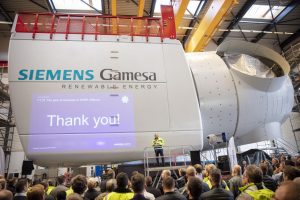 Siemens Gamesa launched the SG 10.0-193 DD, the company's first 10+ MW offshore wind turbine, at the beginning of this year.
The 10MW rating is said to be made possible through a larger generator diameter, building on the Siemens Gamesa Direct Drive generator technology.
By increasing the rotor diameter to 193m, this new turbine offers up to 30% more AEP than its predecessor SG 8.0-167 DD. Its 94m long blades provide a swept area of 29,300m2.
In April, Vattenfall and Siemens Gamesa joined forces to deploy the new turbine at the Hollandse Kust Zuid 1&2 and 3&4 offshore wind farm in the Dutch North Sea.
Commercial market deployment is expected in 2022.