Jan De Nul All Done on Formosa 1 Phase 2
Jan De Nul has completed the EPCI scope for foundations, power cables, and scour protection on the Formosa 1 (Phase 2) offshore wind farm in Taiwan.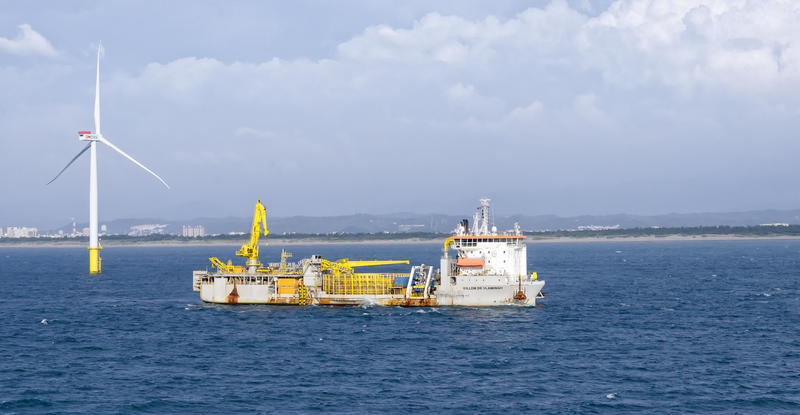 Jan De Nul engineered, procured, and installed twenty offshore wind turbine foundations consisting of a monopile and transition piece with a grouted connection.
Around the monopile foundations, 56,000 tonnes of scour protection have been installed. In addition, seventeen inter-array cables and three subsea export cables of 33kV were designed, procured, installed, buried, terminated and tested. On land, the connection with the substation was made through 12 kilometres of land power cables.
In addition to some international service and product providers, Jan De Nul Group engaged and contracted various service and subcontract agreements with local companies in Taiwan. In addition to using the Port of Taichung as a marshalling harbour , Jan De Nul Group utilised the local supply chain for quarried rock production, rock load-out operations, storage and transport of the foundation structures, beach pull assistance works, dive support supply, various support vessels, installation of transition joint bays, HDD ducts, land cables installation, and other minor services.
"Our local integration in Taiwan has been ongoing for the last 20 years thanks to our various maritime activities throughout the region," Peter De Pooter, Manager Offshore Renewables at Jan De Nul Group.
"In the past year, we have signed different agreements with local suppliers for this project in Taiwan. Leveraging the local supply chain fits perfectly in our philosophy of involving local companies as much as possible in offshore wind construction."
Formosa 1 Phase 2 is owned by Formosa 1 Wind Power Co. Ltd., a partnership of Ørsted (35%), JERA (32.5%), Macquarie Capital (25%) and Swancor Holding (7.5%).
The offshore wind farm is located around 6 kilometres off the west coast of the Miaoli district in the Taiwan Strait, with water depths ranging between 15 and 30 metres. The project comprises of 2 phases: an earlier phase 1 of two wind turbines with a total capacity of 8MW. A second phase added 20 offshore wind turbines with a total capacity of 120MW to Formosa 1's current 8MW capacity. Formosa 1 is the first commercial-scale offshore wind farm in Taiwan before 2020.
Related news
List of related news articles