First Flight Lands at New Eemshaven Heliport
WIKING Helikopter Service and DHSS have completed the first flight to the heliport in the Port of Eemshaven for the opening ceremony.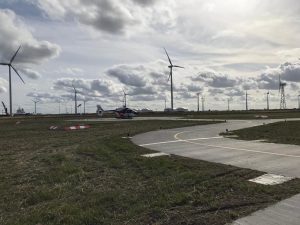 On 13 September, the helicopter brought Dutch Minister of Economic Affairs and Cimate Policy Eric Derk Wiebes who officially opened the heliport.
The heliport has a primary aim of facilitating flights for the offshore wind industry and will mainly be used for the maintenance of turbines.
According to Groningen Seaports, the infrastructure can also be used for ambulance and trauma flights, as well as for piloting ships. The flights are only operational in daylight, with an average of 15 flights a day.
"Our ports were already very well connected by water, road and rail, but the opening of the heliport adds the air travel modality. As a result, offshore wind farms can be reached better and faster, which means that Eemshaven has become a much more attractive service port for the maintenance of offshore wind turbines," said Groningen Seaports CEO Cas König.
EMS Maritime Offshore (EMO) secured a contract at the end of 2018 to operate the new heliport, while Groningen Seaports remains the owner of the needed infrastructure.
The total site covers an area of approximately 4.5ha, of which approximately 1.35ha is an airfield, including a take-off and landing area located in the north-western part of the port and parking stands.
Depending on developments, a number of small buildings may be built in the future, such as a hangar and/or an office/work/reception area for the helicopter operations.