Formosa 1 Phase 2 Produces First Power
The Formosa 1 Phase 2 offshore wind project in Taiwan has generated its first power.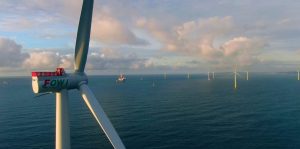 According to Ørsted, 10 out of 20 Siemens Gamesa 6MW turbines have been installed at the project site, while six units began generating power.
Prior to commercial operation, each turbine goes through a power generation test which takes 10 to 14 days to complete. All 20 turbines are expected to be fully operational within the next two months.
"First power from the second phase of Formosa 1 is a major milestone for the project before completion," said Matthias Bausenwein, Formosa 1 Chairman and President of Ørsted Asia-Pacific.
"Together with our joint venture partners, JERA, Macquarie Capital and Swancor, we'll keep devoting our efforts to building Taiwan's first offshore wind farm on time and within budget. Formosa 1 is committed to producing significant amounts of clean energy and contribute to Taiwan's energy transition."
Formosa 1 is being developed in two phases. The first phase which comprises two 4MW turbines entered commercial operation in April 2017. This 120MW second phase is scheduled for commissioning in 2020.
The offshore wind farm is owned by Ørsted (35%), JERA (32.5%), Macquarie Capital (25%), and Swancor Renewable Energy (7.5%).