Canadian Offshore Wind Project Moves Forward
NaiKun Wind Energy Group has signed an indicative offer with an offshore wind developer to develop the NaiKun offshore wind project in British Columbia, Canada.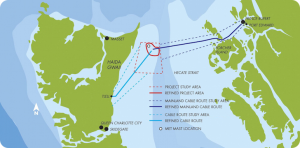 The parties are working to negotiate and sign a definitive agreement in the next few weeks, which will provide technical expertise, dedicated financial resources, and will establish a framework for a long-term relationship, NaiKun said.
According to the company, the definitive agreement negotiations are not yet finished, and the final agreement, if successfully completed, will be subject to shareholder, regulatory and TSX Venture Exchange approval.
"After months of work and lengthy engagements with numerous offshore wind companies, we are very pleased to be making this step to see the project move forward into a significant development phase. We look forward to starting a new and positive partnership with the Haida Nation," said Michael O'Connor, NaiKun President and CEO.
The NaiKun project is located in Hecate Strait, between Haida Gwaii and Prince Rupert on the British Columbia mainland.
The 400MW offshore wind farm will be positioned on a 550km2 area and would feature bottom-fixed structures due to the shallow water at the project location.