NordLink Power Cable Reaches Germany
The power cable of the NordLink high voltage direct current (HVDC) subsea interconnector has been pulled in on the German coast, according to NKT.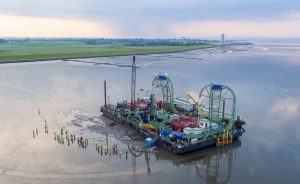 NKT is in charge of designing, manufacturing and installing more than 400km of the 525kV mass impregnated cable system in the German part of the project connecting Norway and Germany.
"The impressive NordLink power cable has now been pulled in on the Germany coast marking a key milestone in the project connecting the power grids of Norway and Germany," NKT reported.
Nexans is responsible for the design, production and installation of six 525kV mass impregnated HVDC interconnector cables for the Norwegian part of the project.
NordLink is 623km long and will directly connect the energy markets of Germany and Norway for the first time and serve as an exchange between German wind energy and Norwegian hydropower.
The 1,400MW interconnector is a joint project of the Norwegian Statnett and Germany's DC Nordseekabel GmbH, a joint venture between TenneT and KfW.
Installation began in August 2017 with the first meters of cable laid on the seabed in Vollesfjord in Vest-Agder, Norway. Commissioning is expected this year, with commercial operation the year after.