Sif Bolts Into Action for DEME
Dutch offshore foundations manufacturer Sif has expanded its offering of services to cover bolting tests.
Sif added the offering after a request from DEME Group to arrange all preparations for the test as part of the work scope for the Belgian SeaMade offshore wind project.
During this test, the bolted flange connection between a monopile and a transition piece (TP) is checked by fitting and torquing all 128 bolts.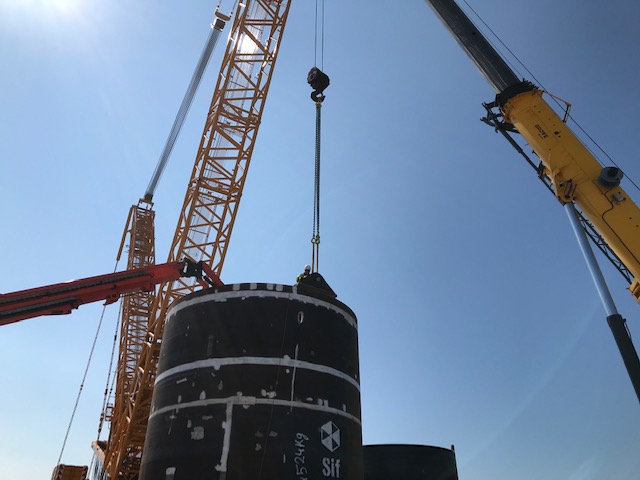 Sif prepared the engineering and arranged a monopile section and a TP section to be manufactured with all the required lifting points. These sections were tilted straight up in Roermond and then transported to the Sif Maasvlakte 2 area. Using SPMTs, these sections were transported from the inner harbour to the quayside. With a 1300T crawler crane, the MP was lifted onto the foundation followed by the TP section on top.
After four days of testing by the client, the monopile and the TP were disassembled and returned to Roermond, where they will return into the normal production process, Sif said.
In December 2018, Dredging International, part of DEME Group, contracted Sif to produce the monopiles and, in a joint venture with Smulders, the transition pieces for the SeaMade offshore wind farm.
Sif will produce 58 monopiles and the primary steel for the transition pieces, with Smulders in charge of manufacturing the secondary steel and outfitting of the transition pieces.
The 487MW SeaMade, which includes the merged 235MW Mermaid and 252MW Seastar projects, will feature 58 Siemens Gamesa 8.0-167 DD turbines.
The construction is expected to begin in the summer of 2019 and the commissioning is scheduled before the end of 2020.
Related news
List of related news articles