Damen has cut the first steel for two new fast crew supply (FCS) vessels ordered by Hung Hua Construction (HHC) for the Taiwanese offshore wind market.
The two FCS 2710 class vessels, being built at Damen Shipyards Singapore, will be named Falcon I and Falcon II.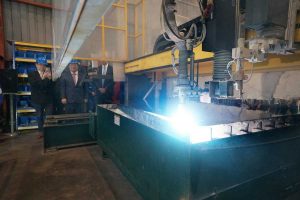 HHC will use them to support Taiwan Power Company, for which it recently completed the installation of the Southern Weather Observation Tower, marking the company's entrance in Taiwan's offshore wind sector.
"I would like to thank Hung Hua construction again with the trust and confidence they have in Damen Shipyards to build these two important vessels for them," said Michiel Hendrikx, Damen's Sales Manager Asia Pacific.
"The installation works of the first wind farms in Taiwan have started this year and this is just the start of a new era in Taiwan with offshore construction projects."
The twin-hulled FCS 2710, with the Damen trademark axe-bow, is one meter longer and extends one meter higher above the waterline than its predecessor the FCS 2610, which allows it to operate in wave heights of above two meters.
According to Damen, the two vessels for HHC will have some additional, small changes to meet the company's demands, as well as optimize them for local Taiwanese requirements and conditions.
The twin Falcons are due for delivery early next year.
Related news
List of related news articles