Giant Haliade-X 12MW Blade Comes Together
LM Wind Power has produced the first blade for GE's Haliade-X 12MW offshore wind turbine at its factory in Cherbourg, France.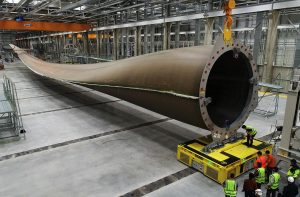 According to LM Wind Power, the 107m long blade, the world's largest, has completed the molding process.
The LM 107.0 P will now proceed with post-molding finishing touches, before undergoing testing and validation to demonstrate its ability to withstand more than 20 years of operation offshore.
"The LM 107.0 P is one of the biggest single-components ever built. This is an amazing achievement not only for LM Wind Power and GE Renewable Energy, but for the entire wind industry," said Lukasz Cejrowski, LM 107.0 P Project Director at LM Win Power.
GE Renewable Energy announced in March last year that it will invest more than USD 400 million to develop and deploy Haliade-X 12MW, the world's most powerful offshore wind turbine.
The turbine is currently being assembled at GE's factory in Saint-Nazaire, with tower sections being produced in Seville, Spain.
It will be installed in Maasvlakte-Rotterdam this summer and will be placed onshore to facilitate access for testing. The prototype is expected to allow the collection of data during the initial period of operations which is needed to obtain the Type Certificate in 2020 and ship first commercial units in 2021.
Related news
List of related news articles