Burdock: CEJA Road to Maryland's OW Supply Chain Competitiveness
Maryland needed to pass a piece of legislation that would create a larger carve-out for offshore wind in order to stay competitive in attracting the supply chain, Liz Burdock, President and CEO of the U.S. Business Network for Offshore Wind commented on Maryland passing the Clean Energy Jobs Act (CEJA).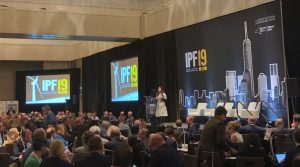 In an interview held with Offshore WIND at the Network's IPF 2019 event in New York, Burdock said she thinks it is great that Maryland passed the bill as it needed it to stay competitive with other states and meet its new Renewable Energy Portfolio Standard (RPS) goal.
However, Burdock believes the state could do more: "I think the carve-out could have been larger. I said that from the very beginning, but I am very happy that they did do the 1,200MW of offshore wind."
CEJA, recently passed by the Maryland General Assembly, will incentivize the development of 1.2GW of additional offshore wind capacity off its coast by 2030 and is expected to accelerate the state's RPS to 50%.
New offshore wind capacity is required beginning with at least 400MW in 2026, increasing to at least 800MW in 2028 and 1,200MW in 2030.
The existing offshore wind application and approval process is bifurcated into Round 1 and Round 2 projects to allow for new applications.
To remind, in May 2017, Maryland approved two offshore wind projects through the process established in current law, US Wind's 270MW MarWin project and Deepwater Wind's, now part of Ørsted, 120MW Skipjack project.