Eqin Powers Tern Sisters
The Dutch Eqin has provided jack-ups Blue Tern and Brave Tern with temporary deck power in Esbjerg during the loadout, transport and installation of turbine components on the Hohe See offshore wind project.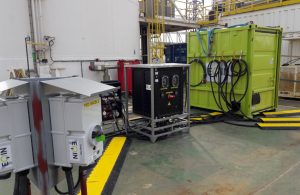 The team has installed cables, cable trays, distribution boxes, transformers and power generators in load sharing mode on board Fred. Olsen Windcarrier's vessels, while the sota generators are remotely monitored.
According to Eqin, the installation provides power to towers, nacelles and handling equipment during loadout, sailing and installation.
The company said it would have carried out the work in Eemshaven, the Netherlands, but it had to move with the equipment to Esbjerg in the last minute due to changes in Fred. Olsen Windcarrier's plans.
Brave Tern recently installed the first turbine at the 497MW project, while Blue Tern will be leaving to the offshore site in the course of this week, Eqin added.
The Hohe See wind farm will comprise a total of 71 Siemens Gamesa 7MW turbines expected to be commissioned by the end of the year.
Related news
List of related news articles