Wind Lidars Supporting Offshore Rigs
Pioneering companies within the Oil and Gas sector are adopting Wind Lidar to provide them with valuable wind data to vastly improve their operational efficiency.
Lidar is an established tool that provides sophisticated wind assessment and measurements within the wind energy industry. An infrared laser exploits the Doppler effect to provide horizontal and vertical wind speeds from 10 meters above the device up to 200 meters (and beyond) establishing a clear wind shear and veer profile. The wind direction, turbulence intensity and temperature, pressure and humidity can also be measured using a Lidar system.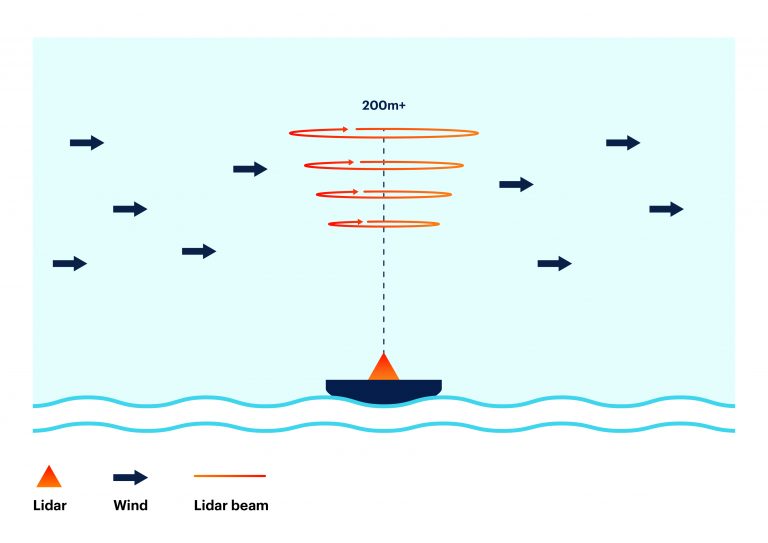 Since 2003, Lidar Original Equipment Manufacturers (OEMs) have collaborated closely with leading wind energy consultancies, wind farm developers, wind turbine manufacturers and academia/universities to cement the technology's technical and commercial acceptance within the industry.
Now, the integration of Lidar systems onto offshore oil and gas platforms is supporting the day-to-day operations and the long term planning and maintenance of these large structures.
Dr. Pak Leung, a MetOcean Specialist at Shell Oil Company and early adopter of wind Lidar technology within the sector, explained: "Lidar provides data that supports both our operational and engineering departments on an offshore oil and gas platform. Within operational support, it resolves our short term challenges (for example, to check the wind profile before a crane is moved) and, for engineering support, it helps our long term challenges, such as the structural management of the offshore platform."
Safety first
Lidar systems address some of the fundamental health and safety concerns that challenge the Oil and Gas industry. Daniel Mendelsohn, a senior project manager at environmental and engineering consultancy RPS Group, explained one application: "Lidar technology is a great boon for those that want to measure the vertical profile of the wind and not just at a vertical point. This profile gives you an estimate of the wind shear, which is particularly useful for helicopter pilots, who need to land on an offshore rig where the profile usually contains more disturbances the closer you get to the ground, which adversely affects their ability to land or take off safely."
Furthermore, an aborted helicopter landing attempt during previously undetected unsafe wind conditions can have significant cost implications in terms of helicopter contracting costs and contractor hours.
Remote sensing devices, such as a Lidar, can also provide operators with accurate and in-depth wind measurements to better understand the actual wind conditions above the crane before it is moved or lifted out of the boom rest. Previously, operators had to rely on data from sensors located on the crane. Consequently, access to this level of data reduces the impact of waiting on weather (WoW) downtime. As a result, operators can better evaluate the potential operational window for lifting and safety on the rig is, once again, improved thanks to the wealth of data Lidar provides.
In addition, wind forces are an integral part of the dynamic positioning calculations used for most modern vessels. These calculations are routinely used in long term fatigue analysis studies for these engineered structures and to evaluate the environmental characteristics of a site.
Why change was needed
Traditional anemometers used to measure the wind on offshore rigs can suffer from challenges associated with bad positioning where obstructions can adversely affect their performance in turbulent airflows. This problem is particularly prevalent on oil and gas platforms where the wind field around rig-mounted (and other structurally-mounted monitoring systems) is often complex, consisting of reflected and compromised wind environments.
"With a traditional anemometer, it's difficult to construct a pole that needs to go tens of meters into the air. With a Lidar, you can just pick it up and start recording to get, not just a few points, but the full wind profile," Mendelsohn added.
Traditional sensors also only provide a dataset at the point of location of the anemometer or sensor and are unable to provide data from multiple heights, which is required to develop an accurate wind shear and veer profile.
Consequently, large uncertainties can result when assumptions are made about wind conditions above the sensor as a consequence of wind profile extrapolation from these single point measurements. In contrast, the ZX 300M Lidar used by Shell is validated to measure from 10 meters up to 200 meters above the device.
Thanks to the robustness of the Lidar systems and quality of measurements they deliver to the wind industry where every fraction of a percent in accuracy counts – Lidar offers an opportunity to replace traditional anemometers in the Oil and Gas industry and overcome these issues.
Leung said: "With Lidar, not only do you get more parameters, these are also more accurate because you are not measuring the wind profile from one height but across a 200-meter range. This is an entirely new way of looking at the impact of the wind within the Oil and Gas industry."
Ready for action
The use of Lidar to measure wind characteristics is not a new application. Lidar devices have been used and validated extensively in the renewable energy industry for a range of applications such as wind resource assessment (both onshore and offshore), studies of wake effects and the optimization of wind turbines.
Leung added: "Lidar is here to stay as part of the education and wider digitization process for the Oil and Gas industry."
Lidar truly does represent a coming revolution for this sector. Thanks to the advanced data sets, versatility and robustness these systems provide, we predict Lidar will storm the Oil and Gas industry in the years aheadLidar Original Equipment Manufacturers
Results have since been published: Mendelsohn, D., P. Leung, K. Kurrus, S. Baboolal, M. Smith, M. Harris, R. Perry, A. Delhomme, R. Poulos, 2018. Lidar and Wave Radar Observations Analysis for Offshore Hurricane Conditions in the Gulf of Mexico.
For more information and a copy of the presentation contact [email protected]
---
The opinions, beliefs, and viewpoints expressed in this article do not necessarily reflect the opinions of OffshoreWIND.biz