East Anglia Consultation Enters Phase 4
ScottishPower Renewables is launching the consultation phase 4 for East Anglia One North and East Anglia Two offshore wind projects in early 2019.
This consultation phase will be based around a draft Environmental Statement which will set out the proposed infrastructure and its likely potential environmental impacts.
The site selection chapter will set out the reasons for SPR's choice of substation sites, taking into account the environmental, social and economic effects and including, where relevant, technical and commercial feasibility.
As part of this consultation phase, the developer will hold a series of Public Information Days where experts will be on hand to discuss the projects impact and proposed mitigation options.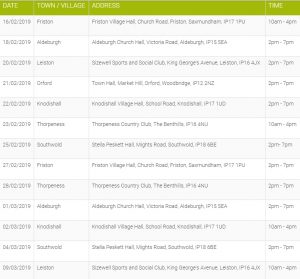 The East Anglia Two project is located some 31km from Lowestoft and covers an area of 255km2. Initial studies have indicated a potential generating capacity of up to 900MW, and a planning application could be submitted in 2019.
East Anglia One North could have a capacity of up to 800MW and is located approximately 36km off the coast, covering an area of 209km2. A planning application could be submitted in 2020.
Related news
List of related news articles