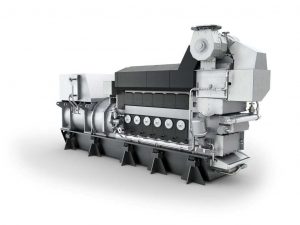 The German United Wind Logistics (UWL) has selected MAN GenSets engines for its new heavy cargo deck carrier for offshore wind projects, currently being built at the Jiangsu Zhenjiang Shipyard in China.
The Chinese shipyard placed an order for two MAN 9L 21/31 and two MAN 6L16/24 GenSets in connection with the construction of the vessel, which will be used for transporting offshore wind turbine components, such as blades, nacelles and towers.
MAN Energy Solutions' licensee CMP will build, assemble and fully test the four medium-speed GenSets in China.
Peter Döhle Schiffahrts-KG is in charge of construction supervision and technical management, with [email protected] providing the basic design and engineering package for the new vessel.
The 148.5m long deck carrier, set to primarily operate in European waters, is scheduled for delivery by the end of November this year.

In addition, the order includes options for two further vessels, MAN said.
"This new order confirms our solid foothold within the segment for smallbore, medium-speed engines powering specialised vessels. I welcome this new reference and feel that it highlights the diversity of our product portfolio," said Lex Nijsen, Vice President, Head of Four-Stroke Marine at MAN Energy Solutions.
Related news
List of related news articles