US Bags $405.1 Million on Equinor, Mayflower, Vineyard Wind's Massachusetts Bids
Article updated on 17 December 2018.
Offshore wind farms at three lease areas off Massachusetts will be built by Equinor (former Statoil), Mayflower Wind Energy (a joint venture between Shell and EDP Renewables) and Vineyard Wind. The three will secure 30-year concessions with a total of USD 405,100,000.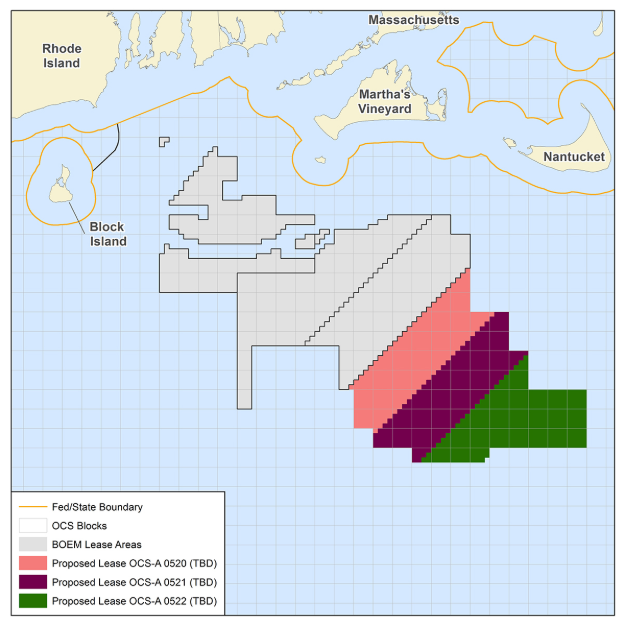 The U.S. Bureau of Offshore Energy Management (BOEM) announced the provisional winners of the 8th offshore wind lease auction in the U.S. at 19:00 (CET) on 14 December, after holding 33 rounds.
Before the leases are executed, the U.S. Department of Justice and Federal Trade Commission will conduct an anti-competitiveness review of the auction, and the provisional winners will be required to pay the winning bid and provide financial assurance to BOEM. The money received from offshore wind lease sales go to the United States Treasury.
Leases OCS-A 0520 (Equinor) and OCS-A 0521 (Mayflower Wind Energy) have been secured with USD 135 million to be paid for each, while Vineyard Wind – held by Avangrid Renewables (Iberdrola) and Copenhagen Infrastructure Partners – placed a winning bid of USD 135.1 million for Lease OCS-A 0522.
Each of the three sites' lease price well surpassed the previous auction record of USD 42.5 million, set by Equinor during the New York auction in December 2016.
The Massachusetts auction also saw eleven companies participating, more than any offshore wind lease sale in the U.S. so far.
Along with the three companies that came out as lease winners, the companies that took part in the auction are: Cobra Industrial Services, East Wind, EC&R Development, EDF Renewables Development, Innogy US Renewable Projects, Northeast Wind Energy, PNE WIND USA, and wpd offshore Alpha.
According to BOEM's Acting Director Walter Cruickshank, the driving forces behind the developers' interest and high prices include the leadership in developing offshore wind shown by Commonwealth of Massachusetts through its policies and power purchase tenders, as well as the activity across the U.S. over the last few years, especially the construction and commissioning of the Block Island Wind Farm.
If fully developed, the three Massachusetts areas offered in the latest lease sale could support approximately 4.1GW of commercial wind generation.
A total of 19 companies had previously qualified to participate in the Massachusetts auction (Atlantic Wind Lease Sale 4A): Avangrid Renewables, Camellia Wind Energy, CI III Blue Cloud Wind Energy II, Cobra Industrial Services, Deepwater Wind New England, East Wind, EC&R Development, EDF Renewables Development, EDPR Offshore North America, Enbridge Holdings (Green Energy), Innogy US Renewable Projects, Mayflower Wind Energy, Northeast Wind Energy, Northland Power America, PNE Wind USA, Equinor Wind US, Vineyard Wind, Wind Future, and wpd offshore Alpha.
In total, BOEM now has 15 active wind leases. The offshore wind lease sales have so far generated more than USD 473 million in winning bids for nearly two million acres in federal waters.
Adrijana Buljan, Offshore WIND Staff