Statoil Secures New York Offshore Wind Lease at Price of USD 42.5 Million
Statoil Wind US came out as the winner of the New York offshore wind lease sale, agreeing to pay USD 42.5 million for rights to build an offshore wind farm at the 79,350-acre area.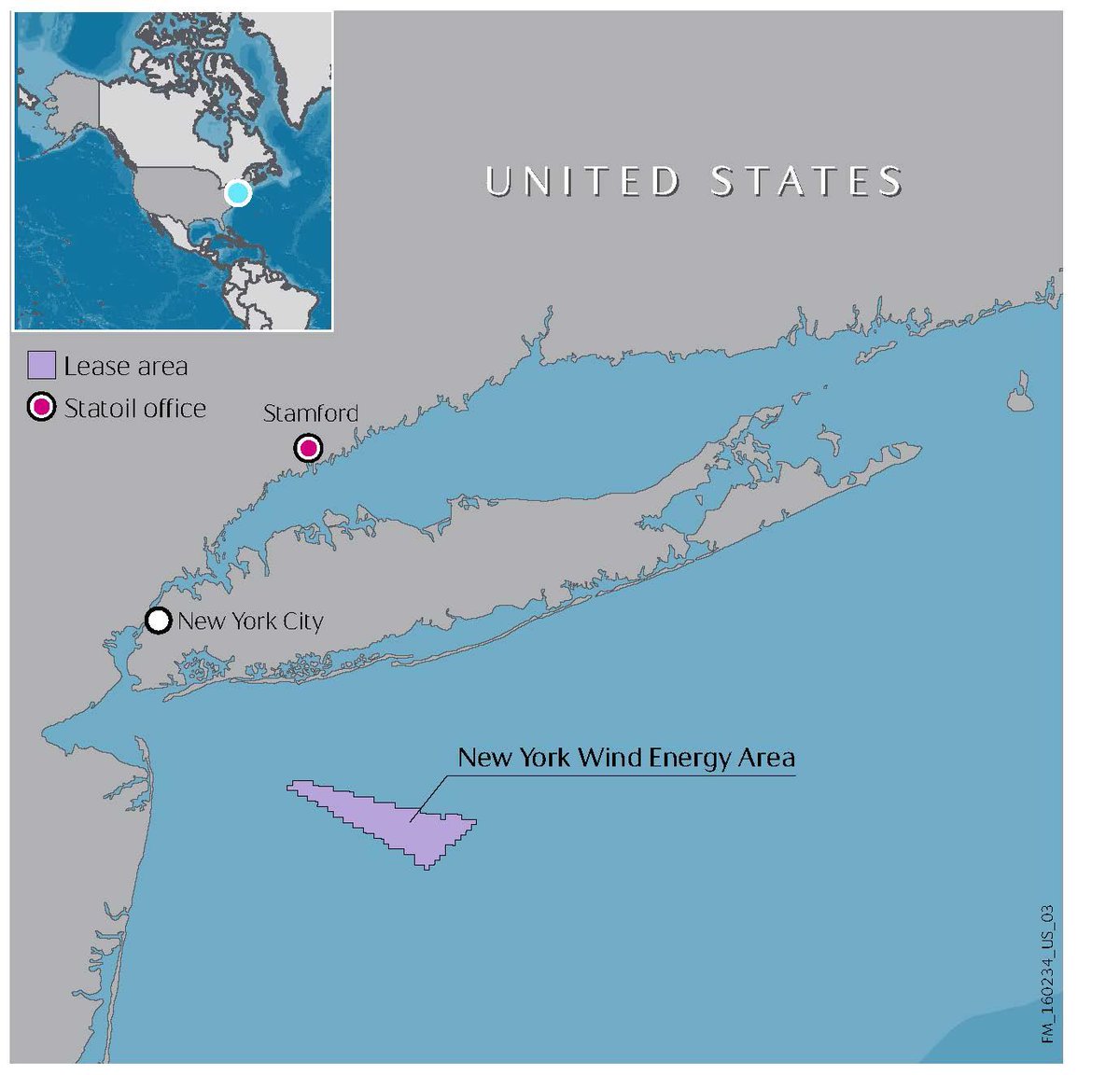 The lease comprises an area that could potentially accommodate more than 1GW of offshore wind, with a phased development expected to start with 400-600 MW. The next step for Statoil is to conduct studies to better understand the seabed conditions, the grid connection options and wind resources involved in the lease site.
"The US is a key emerging market for offshore wind – both bottom-fixed and floating – with significant potential along both the east and west coasts. As today's announcement shows, Statoil is well positioned to take part in what could be a significant build out of offshore wind in New York and other states over the next decade. This effort is in line with the company's strategy to gradually complement our oil and gas portfolio with viable renewable energy and other low-carbon solutions," said Irene Rummelhoff, Statoil's executive vice president for New Energy Solutions.
In Europe, Statoil currently holds a 40% share in the Sheringham Shoal wind farm in the UK, which has been operational since 2012. The company's Dudgeon offshore wind farm in the UK and the world's first floating offshore wind farm, Hywind Scotland, are scheduled to be commissioned in 2017. Earlier this year, Statoil acquired 50% of the Arkona offshore wind farm in Germany, which is expected to enter operation in 2019.
The US Bureau of Ocean Energy Management (BOEM) had identified 14 companies as legally, technically and financially qualified to participate in the auction. However, only 6 companies participated. Along with the winner Statoil, Avangrid Renewables, LLC, DONG Energy Wind Power (U.S.) Inc., Innogy US Renewable Projects LLC, New York State Energy Research and Development Authority, and wpd offshore Alpha LLC participated in the lease sale.
After the asking price hit almost USD 16 million in the 22nd round, four companies continued bidding. The 24th round, set at USD 19.5 million, saw only three bidders competing. The 30th round with a price of USD 33.5 million left two bidders in the game, which ended after 33 rounds and the price climbing to more than USD 40 million.
The lease sales BOEM held so far have generated more than USD 16 million in winning bids for more than a million acres in federal waters, according to US Department of Interior (DOI).
The New York lease area consists of five full Outer Continental Shelf blocks and 143 sub-blocks. It starts approximately 11.5 nautical miles (nm) from Jones Beach, NY at its westernmost point, extending approximately 24nm southeast at its longest portion.
Offshore WIND Staff