Ørsted Goes Big with First Jacket Order in Taiwan
Ørsted has signed a contract with Sing Da Marine Structure Corporation (SDMS), a wholly-owned subsidiary of China Steel Corporation (CSC), to supply 56 jacket foundations for the first 900MW Greater Changhua projects in Taiwan.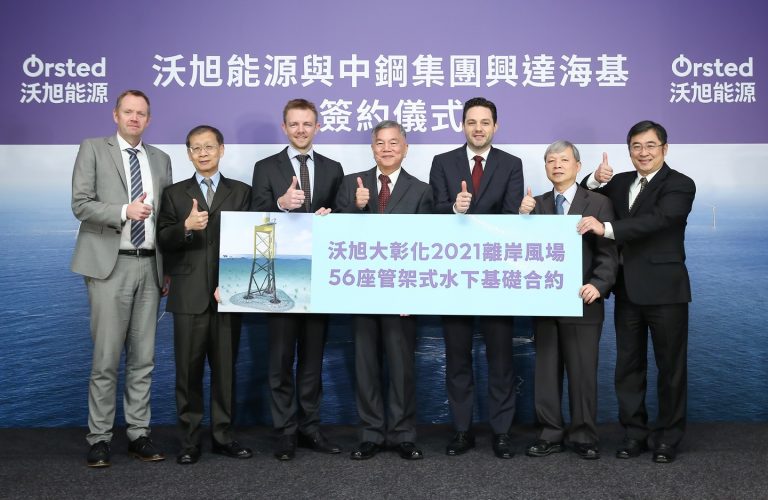 The multi-million USD contract will see SDMS deliver the jackets throughout 2020 and 2021 for the Greater Changhua projects to be installed in 2021.
This is Ørsted's largest jacket foundation contract ever. With respect to delivery in 2020 and 2021, it is also the largest of its kind in the global offshore wind industry and demonstrates Ørsted's strong commitment to developing Taiwan's offshore wind supply chain, the developer said.
SDMS will extend their facilities in Sing Da Harbour in Kaohsiung and have the new factory operational in the first quarter of 2020. The Ørsted foundation team has spent more than 18 months developing this partnership with CSC and SDMS.
"Foundations are an essential part of building offshore wind power plants in Taiwan, not least due to the extraordinary demanding site conditions in the Taiwan strait," Matthias Bausenwein, Ørsted's President for Asia Pacific, said.
"For our Greater Changhua projects, we will have to use Jacket foundations, weighing over 1,100 ton and reaching a height of approximately 75 meters. Such large structures will require outstanding fabrication performance as well as excellence in the execution phase during installation. We are very pleased to have found a strong partner who is capable of developing such skills and we look forward to executing our projects, jointly with SDMS, in a brand-new fabrication plant especially designed for manufacturing jacket foundations. Today's contract is just a beginning of our long-term partnership since SDMS is considered as one of the preferred suppliers for our future projects which will be built in 2025."
The contract signed today is subject to certain conditions such as the signing of a power purchase agreement by the end of 2018 and Ørsted's final investment decision, which is expected in March 2019.