Universal Foundation to Back Van Oord at Deutsche Bucht
Van Oord has contracted Universal Foundation to support the installation of two mono bucket foundations at the Deutsche Bucht offshore wind farm.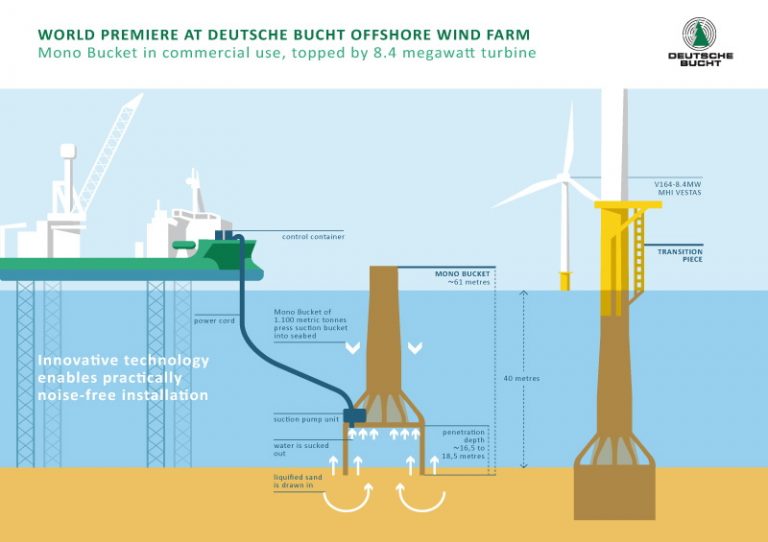 To remind, financial close on the Deutsche Bucht Mono Bucket pilot demonstrator project was reached in July 2018, after the Federal Maritime and Hydrographic Agency of Germany (BSH) granted the Deutsche Bucht offshore wind project the permit required to install two additional pilot wind turbines using mono bucket foundations whose design was certified by DNV GL in April.
Deutsche Bucht will be the first offshore wind farm worldwide to test this new type of foundation structure under commercial operating conditions.
As the general contractor for the Balance of Plant, Van Oord is responsible for the manufacturing and installation of the mono bucket foundations.
Jesper Uhre Larsen, Project Manager at Universal Foundation said: "We are excited to continue our efforts on the project working with a professional marine contractor like Van Oord. The project teams are working towards the same end goal: a successful installation of the Mono Bucket foundations in 2019, which will enable further opportunities to lower the cost of offshore wind energy."
The mono bucket foundations will be installed in the second quarter of 2019.
"This project is an essential step in Universal Foundation's strategy. To capture the full commercial potential of the technology, we are investing heavily in further technological standardization and industrialization, to ensure not only an environmentally friendly solution, but one that can be the preferred choice in today's competitive market," said Kristian Ravn, Managing Director of Universal Foundation.
The Deutsche Bucht wind farm will have a total of 33 MHI Vestas Offshore Wind V164-8.4MW wind turbines, 31 on monopiles and two on mono buckets.
Monopile installation at the German offshore wind site started in September 2018.
The EUR 1.4 billion Deutsche Bucht, expected to be commissioned in the second half of 2019, is owned by Canadian power producer Northland Power, and is the company's third North Sea offshore wind farm, together with Gemini and Nordsee 1.