Eidesvik Returns to Ampelmann
Dutch offshore access solutions provider Ampelmann has secured a contract with the Norwegian vessel owner Eidesvik for supporting works at the Merkur offshore wind farm in the German North Sea.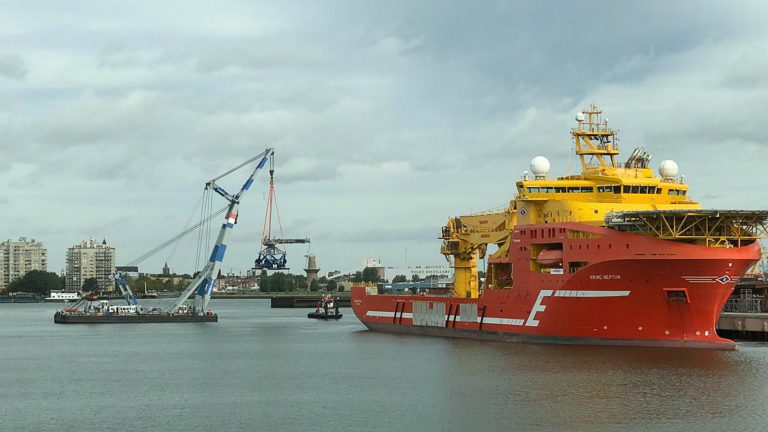 An E-type walk-to-work system has been installed on the vessel Viking Neptun and will operate for five months, starting mid-September. Ampelmann said.
This is the second project between the two companies. In 2017, Ampelmann was awarded a contract by Eidesvik to deliver another one of its E-type systems to carry out commissioning work at the Wikinger offshore wind farm. The project was for end client Adwen and also went on for five months.
"After a successful collaboration last year, we are excited to work with Eidesvik again in the coming winter season," said Tim Börner, Business Development Manager Offshore Wind at Ampelmann.
The project with Eidesvik is among the latest of contracts secured by Ampelmann's recently opened office in Hamburg, Germany.
As reported earlier, Viking Neptun will start the five-month Merkur charter mid-September, with 2,5 months optional periods.
"We are very pleased with how the cooperation between Ampelmann and Eidesvik works; Ampelmann understands client requirements and they have a very service-minded attitude," said Vermund Hjelland, Vice President Technology & Development at Eidesvik AS.
"The matching of Ampelmann and Eidesvik really brings together all the first-class tools and people needed for safe and successful gangway operations, even in challenging weather conditions."
The 396MW Merkur offshore wind farm comprises 66 GE Haliade 6MW wind turbines currently being installed at the site some 45km north of the island of Borkum.