Doosan Secures O&M Work Offshore South Korea
South Korea's Doosan Heavy Industries & Construction (DHIC) has signed a maintenance service contract with Korea Offshore Wind Power (KOWP) for the 60MW Southwest Offshore Demonstration Wind Farm.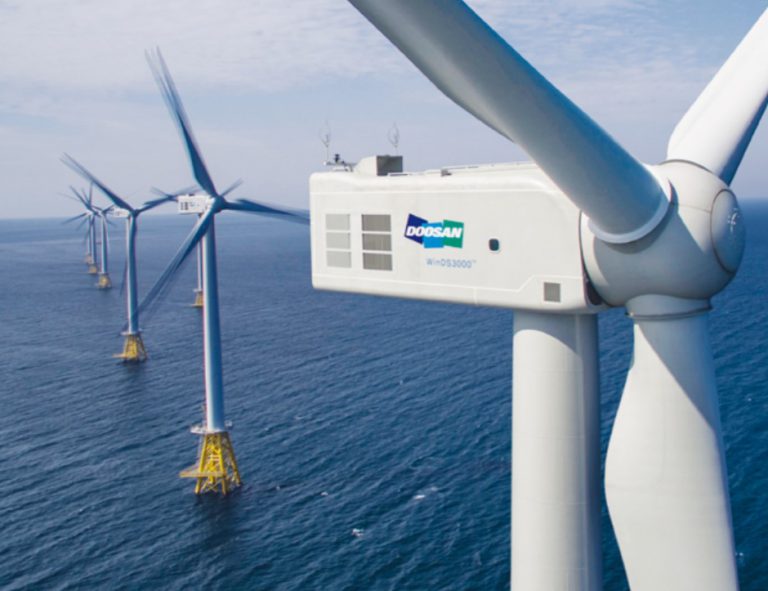 The contract will be for 15 years, and Doosan will be responsible for guaranteeing the operation rate of the wind farm's 20 turbines, as well as providing routine maintenance and offshore maintenance services starting in 2019.
As Korea's largest offshore wind farm development project, the 2.5GW Southwest Offshore Wind Power Project will be carried out in three phases along the southeast coast of Wido in Buan-gun, North Jeolla Province. This maintenance contract covers Phase 1 of the project, which involves building 20 wind turbines for a total capacity of 60MW, and the construction is scheduled to be completed by the end of 2019.
Doosan formed a consortium with Hyundai Construction & Engineering and won the equipment supply contract for this wind farm back in September 2015. The company has been supplying 3MW wind turbines developed in-house to the Southwest wind farm.
"DHIC has proven its commercial competitiveness once again by winning the contract to supply equipment and maintenance services to Southwest Offshore Wind Power, the second and largest offshore wind farm in Korea, following after our Tamla Offshore Wind Power project win, which was Korea's first offshore wind farm. We intend to continue expanding the wind power business in the domestic market, which is forecasted to grow to a scale of 16GW by 2030, and will endeavor to build up our export capabilities," said Jinwon Mok, Power Service BG CEO at DHIC.