Jumbo to Add New Heavy Lift Crane Vessel to Its Fleet
On 8 December, Jumbo signed a Letter of Intent (LOI) with China Merchants Industry Holdings (CMIH) for the provision of detailed engineering and construction of a new DP2 Heavy Lift Crane Vessel (HLCV). The new vessel – capable of installing wind turbine foundations and floating structures in deeper waters – is expected to be delivered in the first quarter of 2020.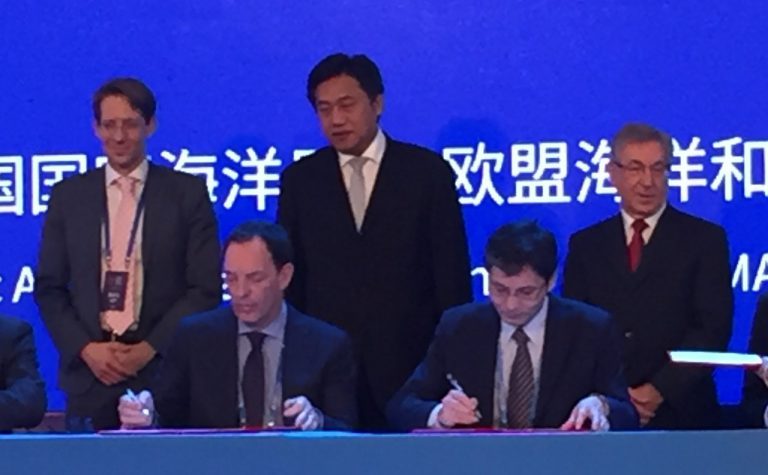 The vessel will be equipped with two Huisman offshore mast cranes with a lifting capacity of 2,200 and 400 tonnes respectively and with water depth ratings of 3,000m each.
Designed in cooperation with Ulstein Design and Solutions, the vessel will feature a hull outfitted with Ulstein's X-BOW and, given its length of 185 metres and width of 36 metres, Jumbo's new HLCV will be the world's largest X-BOW vessel.
The HLVC will be powered by dual fuel engines and has the ability to run on natural gas (LNG).
In addition to serving the offshore wind industry, Jumbo will operate the vessel in the offshore oil & gas market, providing various installation and decommissioning services.
Michael Kahn, Managing Director of Jumbo says: "Despite the current offshore climate, we are committing to this industry long term. Signing this Letter of Intent alongside CMIH, with their partnering mentality, is a key milestone for Jumbo's offshore division to further step-up, scale-up and diversify into the global offshore energy market."
Jumbo has been involved in several offshore wind projects across Europe, with the latest works being carried out at German Arkona offshore wind farm, where Jumbo's HLVC Fairplayer is currently installing the transition pieces (TPs).