TWD: Floating Blade Exchange Tool Cuts Jack-Ups Out of Equation (Expertise Hub VIDEO)

Replacing a jack-up with a barge equipped with a Blade Exchange Tool to remove and install blades and other turbine components offshore leads to significant cost reductions, Guido Vletter, Project Engineer at Temporary Works Design (TWD) said.
TWD, together with Royal Wagenborg, has come up with a floating removal and installation method using a barge and the Blade Exchange Tool.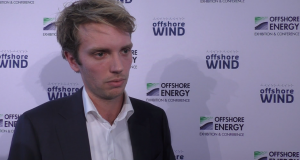 The Blade Exchange Tool has been developed as a cost-effective solution for a potential exchange of 5.000 sub-5MW blades in the coming years, TWD said.
The partners have recently completed a technical feasibility study of the concept.
The vessel-independent tool is equipped with a motion compensation system to mitigate relative motions during turbine approach and allows for a safe connection. Once connected, a smart blade handling cart can collect, transport and place blades and other heavy components of the nacelle, TWD said.
For more information on the new floating solution for the exchange of turbine blades, watch our Expertise Hub video.
---
For more Expertise Hub interviews, visit Navingo's Offshore WIND channel on Vimeo.