Esvagt Mercator SOV Ready for Belwind 1, Nobelwind OWFs
MHI Vestas and Esvagt's executives will gather today, 1 December, at Port of Oostende to christen the Service Operations Vessel (SOV) that is now ready to operate at Nobelwind and Belwind 1 offshore wind farms.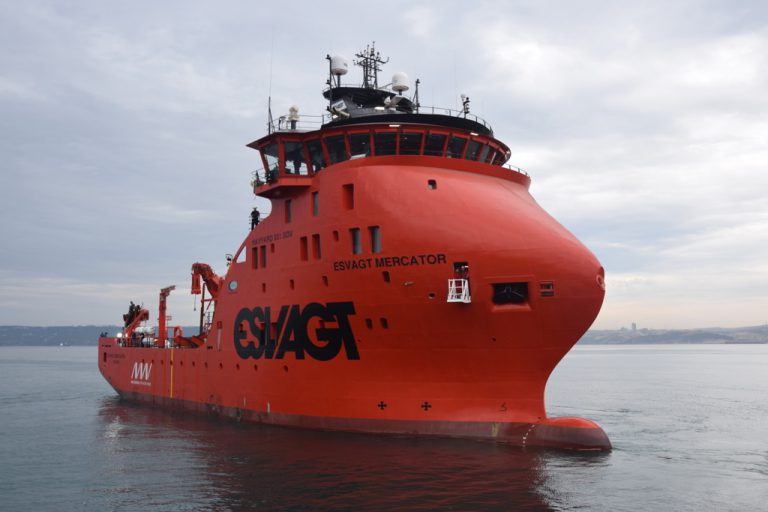 Named Esvagt Mercator, the vessel will support MHI Vestas team at 105 wind turbines in Belgian waters – 50 at Nobelwind and 55 at Belwind 1.
MHI Vestas Chief Operations Officer, Flemming Ougaard, said: "With the inauguration of Esvagt Mercator, we are deepening our commitment to the Belgian offshore wind market and our expertise in the operations and maintenance business. The collaboration with Esvagt in the design of such an advanced service operations vessel has been outstanding. We look forward to utilising all this ship has to offer in maintaining the turbines at Nobelwind and Belwind 1."
The 58.5m long vessel is equipped with dynamic positioning technology, and two safe transfer boats to transfer technicians, tools and spare parts to the turbines.
Esvagt Mercator will be a home for 36 people for up to two weeks at sea and will operate from the Port of Oostende, where MHI Vestas has an operations and maintenance base with 65 people in permanent employment. The SOV will also function as a floating warehouse, storing spare parts and tools for servicing wind turbines offshore.
The two companies signed a ten-year charter deal for Esvagt Mercator in December 2015.
In August of this year, MHI Vestas returned to Esvagt for another SOV, which will serve the 252MW Deutsche Bucht (DeBu) offshore wind farm in the German North Sea for 15 years.