MHI Vestas Charters Esvagt SOV for DeBu Offshore Wind Farm
MHI Vestas Offshore Wind has returned to Esvagt and chartered a new Service Operation Vessel (SOV) for a period of fifteen years.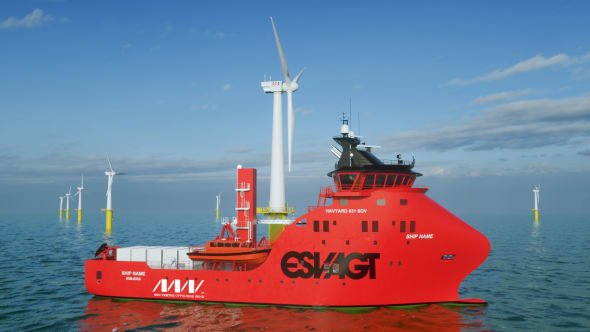 The new SOV, once delivered in August 2019, will service the 252MW Deutsche Bucht (DeBu) offshore wind farm in the German North Sea for which MHI Vestas will provide 31 V164-8.0MW turbines and subsequent maintenance.
The new 15-year contract is not only the longest in Esvagt's history, but it is also the largest in terms of value, the Danish company said.
The DeBu SOV will be equipped with a walk-to-work gangway system in a bespoke tower with a crane placed on top of the tower, which, together with Esvagt's Safe Transfer Boats STB 7 and STB 12, will contribute to the safe transfer of turbine technicians, tools and spare parts.
"The ship is optimised and tailored in accordance with the client's wishes and needs," said Kristian Ole Jakobsen, Chief Operating Officer, Esvagt A/S.
"MHI Vestas has prioritised a fuel-efficient ship and we are proud to be able to deliver a vessel of this size with remarkably low energy consumption. Simultaneously, the STB 12, which is able to call port independently, will positively contribute to a decrease in the overall fuel consumption of operating the wind farm." 
The SOV will be built in the Zamakona shipyard in Bilbao, Spain.
MHI Vestas and Esvagt have collaborated on the Belwind 1 and Nobelwind 1 offshore wind farm projects in Belgium since 2010, where a newly built SOV will commence its 10-year charter period as a replacement for the 'Esvagt Supporter' this autumn.
"This contract builds on the strong relationship we have had with MHI Vestas since 2010. We are very pleased with the trust MHI Vestas is showing in us by signing a deal of this magnitude," said Chief Executive Officer Søren Nørgaard Thomsen, Esvagt A/S.