EEW OSB and Bladt Industries Add to Hornsea One Orderbook
Danish offshore wind developer Ørsted has contracted the Teesside-based EEW OSB (formerly OSB) and Denmark's Bladt Industries to manufacture 30 and 28 transition pieces respectively for the 174-turbine Hornsea Project One.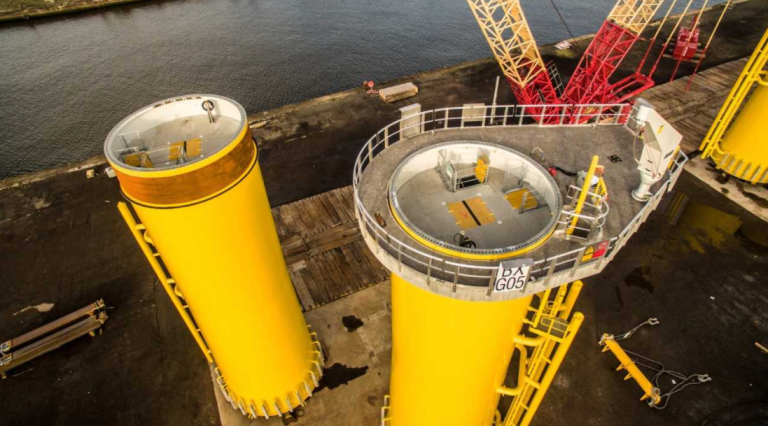 With the latest order, Ørsted has selected all the suppliers of the wind farm's monopiles and transition pieces.
EEW Special Pipes Constructions GmbH (EEW SPC), the provider of all 174 monopiles, has just taken full ownership of EEW OSB, which was established as a joint venture company between EEW SPC and Bladt Industries in 2014.
Bladt Industries, who already held a contract to supply 96 transition pieces, 56 of which will be manufactured at EEW OSB, will now provide additional 28 units.
In total, EEW OSB will manufacture 86, Bladt Industries 68, and Steelwind Nordenham with the Teesside-based Wilton Engineering 20 transition pieces.
All in all, 106 of the striking yellow transition pieces will be loaded out to the wind farm from Teesside.
Duncan Clark, Hornsea Project One Programme Director said: "The north east is a hub of manufacturing excellence, and it's great to see the growing offshore wind industry supporting real engineering jobs here. EEW OSB is a great example of that; in just two years the facility has revived and supplied increasing numbers of transition pieces for our offshore windfarms across the country, securing hundreds of Teesside jobs. Hornsea Project One will make a significant contribution to the UK's carbon reduction targets. Developing the UK supply chain not only boosts the local economy, it will help us maintain the UK's position as global offshore wind leader."
Offshore construction for the 1.2GW Hornsea Project One will begin later this year and the wind farm is expected to be fully operational in 2020.