Ørsted: The Netherlands Might Become One of the Largest Offshore Wind Markets (Expertise Hub Video)

The Netherlands is serious about renewables and has ambitious plans for the development of offshore wind capacity which could lead to the country becoming one of the largest markets for offshore wind, Jasper Vis, Country Manager for Ørsted Netherlands (formerly DONG Energy Netherlands), said.
The Dutch government has shown that it counts on offshore wind by introducing a rollout map until 2020 which includes five tenders, and that gives a lot of confidence to investors and the supply chain, Vis said on the sidelines of the Offshore WIND Conference in Amsterdam, where he was one of the speakers.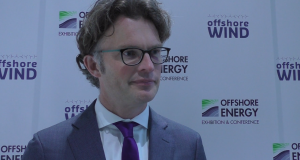 ''The current government has already taken the next step and proposed to do 1,000MW a year post-2020, and I think that is really a roadmap you need to develop a renewable energy source like offshore wind,'' Vis said.
Watch our Expertise Hub interview to find out more on Ørsted's activities and future plans in the Netherlands.
---
NOTE: The interview was carried out prior to the company's official name change from DONG Energy to Ørsted.
For more Expertise Hub interviews, visit Navingo's Offshore WIND channel on Vimeo.