JB-117 Deployed at DolWin Gamma Site
The self-elevating platform JB-117 has been deployed on the DolWin 3 project  in Germany to provide crane support and accommodation services during the float over, installation, hook up and commission of the DolWin gamma converter station topside. Offshore Marine Contractors were appointed by Jack-Up Barge to provide assistance with the mobilisation of JB-117.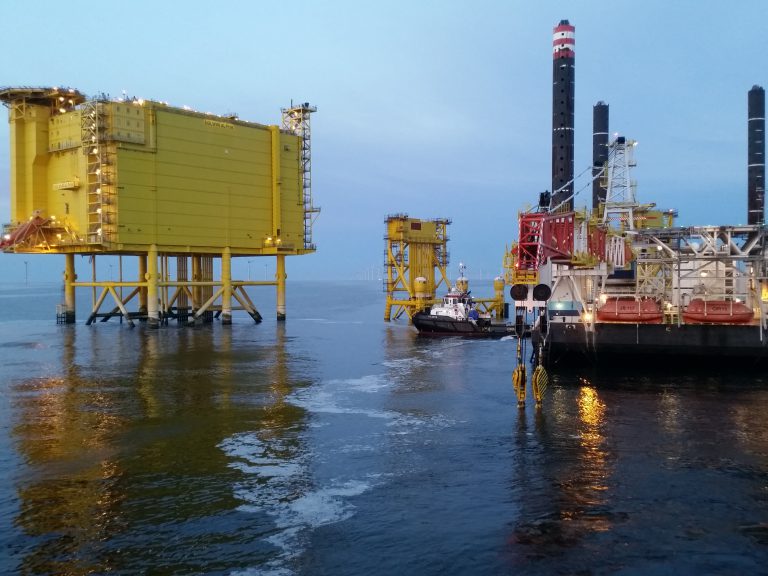 The 18,000-tonne topside was installed on the jacket foundations with the float-over procedure earlier this month.
The JB-117 tow commenced in Vlissingen and set sail to the project location. This was conducted by the 85 tons bollard pull Thor and the 70 tons bollard pull Atlantis.
At the DolWin 3 location, tug Thor provided anchor handling services for the tight tolerance rig move within a complex anchor pattern.
Positioning of the JB-117 within such tight tolerances to both subsea obstructions and the DolWin Alpha substation was successfully performed in close co-operation with Jack-Up Barge and Marine Offshore Designers who provided survey/positioning services, Offshore Marine Contractors said.
DolWin gamma is a daughter platform to the DolWin alpha and will be connected to it via a fixed bridge. The DolWin gamma offshore platform is part of the 900MW DolWin3 offshore grid connection system. Once completed by the end of this year, the DolWin3 will connect two offshore wind farms from the DolWin cluster to the 400kV substation in Dörpen West.
Photos: Capt. Kai Holmroos of tug Thor/ Matthijs van de Ketterij of tug Atlantis.