VOS Prime Testing Ampelmann Gangway on Gemini Offshore Wind Farm
Multi-role platform supply vessel VOS Prime has mobilised an Ampelmann 'A-type' gangway system and engaged in walk-to-work operations at the offshore substations on the 600MW Gemini wind farm in the Netherlands, Vroon Offshore Services reports.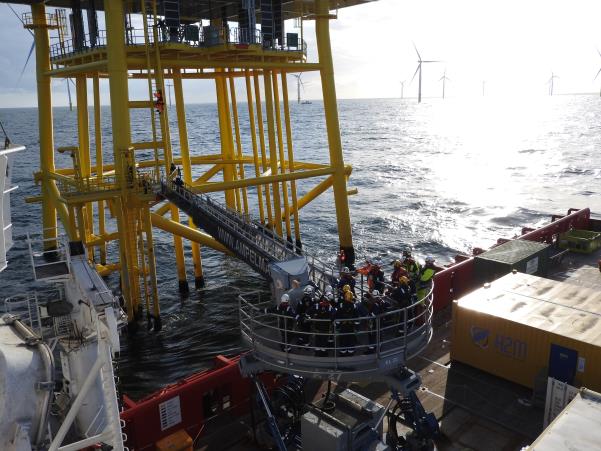 The vessel has been servicing the new charter since the end of June, Vroon said.
The 'A-type' gangway was positioned on VOS Prime's deck allowing the 'weather-window' performance (i.e. the maximum limit of the combined environmental forces such as wind and sea state, whereby passenger transfers can be safely performed) to be combined with a clear-deck space of about 550 square meters available for cargo carrying capacity, according to Vroon.
In her enhanced walk-to-work set up, VOS Prime will continue to operate in the Southern North Sea renewable sector.
She has been performing cargo-supply runs, in cooperation with the Germany-based Rhenus Logistics, to the offshore substations in the German sector – including Dolwin Beta, Dolwin Gamma, Veja Mate and Alpha Ventus – on a continuous basis since August 2016.
The Gemini offshore wind farm was officially opened in early May 2017.
The wind farm is situated 85 kilometres north of the Groningen coast and comprises 150 Siemens 4MW turbines and two offshore substations – Buitengaats and ZeeEnergie.