GeoSea to Build Large Offshore Wind Farms with New Next-Gen Vessel
As of 2019, GeoSea will use a next generation vessel – named Orion – for the construction of the large offshore wind farms, after its mother company DEME placed an order for the 216.5m DP3 installation vessel with COSCO shipyard in China.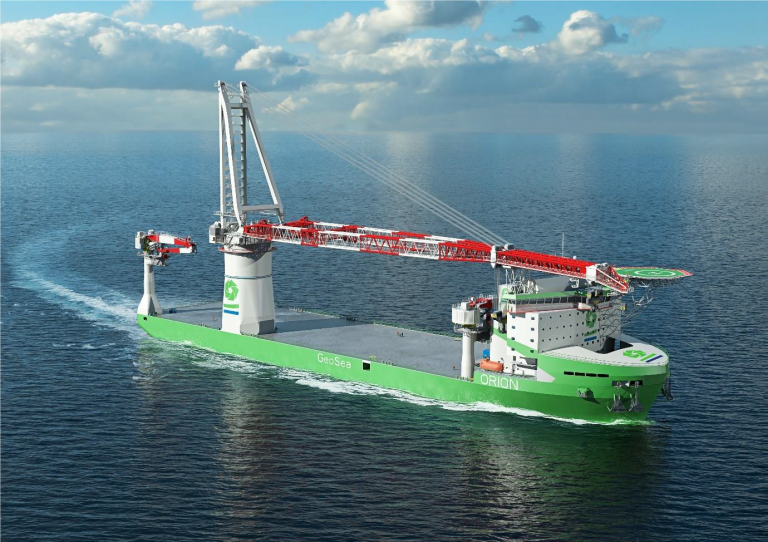 Orion will be able to take the heaviest monopiles, jackets, wind turbine components and structures in a single shipment, and install the next generation of giant multi-megawatt wind turbines, according to DEME.
Namely, the vessel will be equipped with a high-tech crane with lifting capacity of 3,000t at more than 50m and the capability to lift the loads can to a height of more than 170m. Also, Orion's deck space has been maximised to provide high transport and load capacity.
Luc Vandenbulcke, Managing Director at GeoSea, said: "With 'Orion' we will be uniquely positioned to meet the future requirements of our customers and the trend towards larger capacity turbines and bigger wind farm projects, delivering energy at lower costs. 'Orion' will be capable of installing mega monopiles at greater depths. With DP3 technology the offshore installation vessel can continue operations under the most challenging conditions."
DEME also pointed out that environmental considerations have been an important element of the vessel design, with Orion having dual fuel engines and being able to run on natural gas (LNG). The vessel will have a Green Passport and Clean Design notation. In addition, Orion will have other environmental innovations on board, such as a waste heat recovery system that converts heat from the exhaust gasses and cooling water to electrical energy.
The vessel can accommodate a crew of up to 131 people.