BOW Terminal Vlissingen Nets East Anglia One Marshalling Contract
ScottishPower Renewables and the Dutch BOW Terminal Vlissingen have signed an agreement for foundations marshalling yard services for the 714MW East Anglia One project.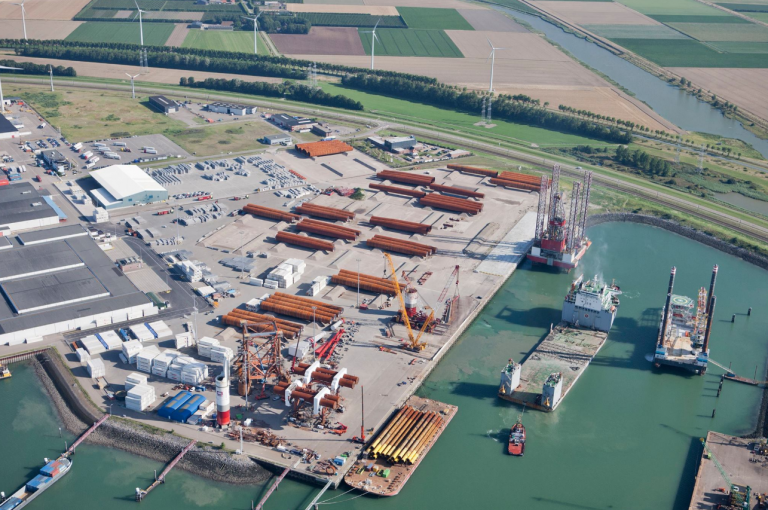 The agreement relates to the provision of up to 12-14ha for the storage of the project foundations.
The foundations consist of a total of 102 jackets and 306 pinpiles. The maximum weights of these heavy lifts are approximately 900 tonnes and 220 tonnes, respectively.
"BOW Terminal best matched the requirements for East Anglia ONE, and we look forward to work commencing later this year. This contract complements the work we have already confirmed in the ports at Lowestoft, Great Yarmouth, Hull and Belfast. East Anglia ONE is progressing well, with a wide range of large contracts now in place, and onshore work due to commence in the near future," Charlie Jordan, ScottishPower Renewables Project Director for East Anglia ONE, said.
Besides the provision of storage area, BOW Terminal will also coordinate and execute all horizontal and vertical transport for the jackets and pinpiles at the BOW Terminal.
The works will commence in the second half of 2017.
42 jacket foundations and the accompanying pinpiles will be manufactured by Spain's Navantia and Windar, with the remaining 60 foundations and pinpiles to be produced by Lamprell at its Jebel Ali and Sharjah yards in the UAE.
The production of the jackets and pinpiles is expected to start in spring 2017, with deliveries scheduled within the following two years.
The foundations will be installed by Seajacks and Van Oord, with the main installation vessel being Seajacks Scylla.
Van Oord will be responsible for the logistics of all jacket foundations and piles and the transport to the marshalling port of Vlissingen. From there, the foundations will be transported and installed by Seajacks Scylla.
East Anglia ONE will consist of 102 Siemens 7MW turbines and an electrical substation which are scheduled for full commissioning by the end of 2018.
The GBP 2.5 billion offshore wind farm is located in the southern North Sea, approximately 45 kilometers off southeast of the town of Lowestoft.