Rampion Offshore Substation Jacket In Place
The offshore substation jacket for the 400MW Rampion offshore wind farm has been installed off the coast of Sussex, UK,  Babcock International Group reports.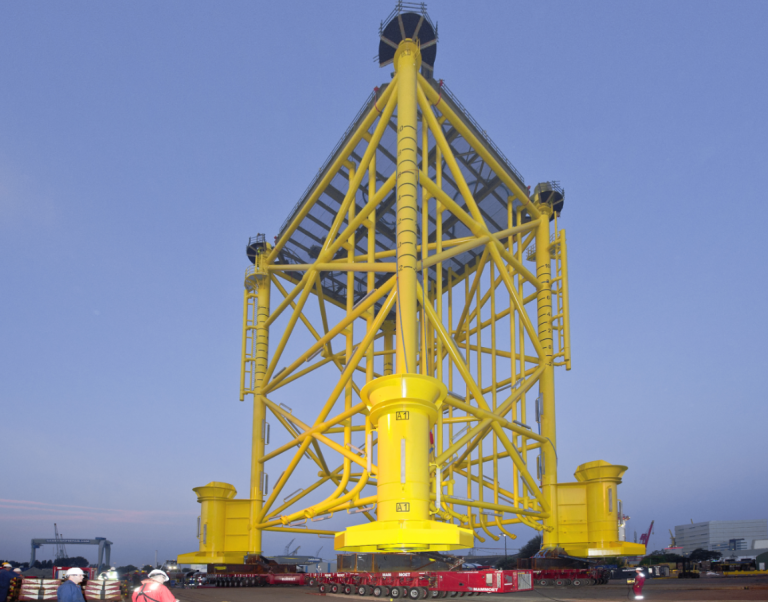 Babcock's two-year Rampion contract involves the engineering, procurement and onshore construction of the 400MW substation topside and jacket.
The Schiedam-based HSM Offshore procured and fabricated the Rampion jacket and piles under a subcontract from Babcock.
The jacket was completed and delivered in September 2016, with the transport and installation undertaken by Scaldis using the Rambiz heavy lift vessel.
The 1,100 tonne, 42-metre long offshore substation jacket is now ready to receive the near 2,000 tonne topside structure, which is due to load out from Babcock's Firth of Forth facility in 2017.
"The construction of the sub-station jacket for the Rampion Offshore Wind Farm has been a significant project for our Babcock Rosyth base and our first wind farm project here, utilising the wealth of engineering, project management and procurement skills and experience that we have developed over many years," Willie Watson, Operations Director of Energy & Marine Services at Babcock International Group, said.
"We are pleased to see the work come to fruition with the successful installation of the jacket and look forward to continuing our relationship with Rampion and its other contractors, on delivering the remaining milestones for this project."
The GBP 1.3 billion Rampion offshore wind farm project is owned by E.ON, the UK Green Investment Bank plc and Canadian energy company Enbridge. The project, located some 13 kilometres off the coast of Sussex, is due to be completed and operational in 2018.
Following the Rampion substation project, Babcock secured a contract with DONG Energy to support the development of its 1.2GW Hornsea Project ONE offshore wind farm.
In summer 2016, Babcock was also awarded a contract to construct two offshore transformer modules for the Beatrice Offshore Windfarm Limited (BOWL) project in the Outer Moray Firth.
Working with Siemens – Transmission and Distribution, Babcock will deliver the offshore transformer modules during the first half of 2018.
Photo: HSM Offshore
---
NOTE: The original article was amended on Monday, 16 January, 11:30 AM CET. The original article stated that the jacket was constructed by Babcock International Group at its facility at Rosyth and not by HSM Offshore.